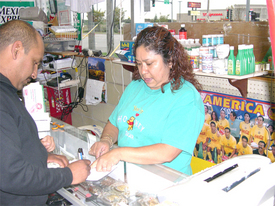 CARPENTERSVILLE, Ill. — When nearly 3,000 demonstrators showed up outside a village board meeting here on Oct. 3, mostly to oppose the "Illegal Alien Immigration Relief Act," town leaders tabled the measure in order to facilitate the discussion in a larger location for public hearings.
Two weeks later, on Oct. 17, after heated debate, the Carpentersville Village Board voted 4-3 to table the measure indefinitely. The board will delay any further vote until litigation with similar ordinances is resolved in towns like Hazelton, Pa., Riverside Township, N.J. and Valley Park, Mo.
The meeting deliberated in front of a standing-room-only crowd of more than 200 people. Outside, hundreds more protested the proposed law using bullhorns and waving signs.
Carpentersville trustees Paul Humpfer and Judy Sigwalt proposed the divisive local ordinance last month. It made the working-class town, less than 40 miles northwest of Chicago, the first municipality in Illinois to consider making English its official language.
The ordinance would have prohibited "aiding and abetting illegal aliens" and would fine landlords who rent to or conduct business with undocumented immigrants. The town of 37,000 is 40 percent Latino and the ordinance is widely seen as anti-Latino.
Humpfer says he drafted the ordinance after learning the village spent $372,000 last year on ambulance fees for residents who he claims were "illegal."
Linda Ramirez-Sliwinski, a village trustee who grew up in Carpentersville, called the measure racist. She said Latinos are being targeted, especially by outside forces like the anti-immigrant Minutemen group. Ramirez-Sliwinski is the only Latina on the seven-member village board.
"They are not doing this for the community, they are doing this to the community," she said in a telephone interview. "Immigrants pay taxes, they own homes, they pay their bills, own businesses and shop here."
She said she hoped the ordinance would be defeated. "I would like to see this as a victory for the whole country," she said.
Village President Bill Sarto called the measure a "political stunt," telling a local paper, "This is a hot-button issue that a couple of trustees stirred up."
He said he was concerned about Carpentersville's ability to obtain grants, maintain a good bond rating and provide the best health insurance benefit rates for employees, all of which could be compromised by the ordinance. The bill's sponsors are "jeopardizing the financial situation of the village," he said.
Latino business owners, community leaders including Ramirez-Sliwinski, teachers and ministers came together and formed the Carpentersville Community Alliance in opposition to the ordinance. CCA met with Sarto to give him their support. Although the CCA is mainly composed of Latinos, members said they want to create a voice for the community at large.
In a phone interview, Sarto said the two trustees who pushed the ordinance "are making a big mistake" that will be "detrimental to the entire community." He said the ordinance encourages racial profiling in a community where 60-70 percent of the Latino residents are legal citizens. "It's a violation of their civil rights," he said. "This ordinance puts everyone who is Hispanic in jeopardy."
Sarto said a number of white business owners support his position and are ready to help defeat the ordinance. The measure does not have the majority of votes on the board, he said.
The Carpentersville bill is among a recent spate of small town anti-immigrant ordinances. In most cases English-only proposals are coupled with measures to block immigrants from access to housing, jobs and education.
Many are in areas with tight election races, where right-wing Republicans hope to benefit from an immigrant-bashing atmosphere.
Hazleton, Pa., made national news when it passed a similar ordinance, which has been put on hold pending litigation. Out of 50 such local ordinances, passed, rejected or under consideration, 28 are in Pennsylvania, a congressional battleground state, where a leading Republican incumbent, Rick Santorum, may lose his Senate seat.
Patricia Garcia, a Mexican-born U.S. citizen, mother of four, is co-owner of a store on Carpentersville's main business strip. She has been in business for about 16 years selling clothing, food, snacks and other items.
"We are all workers here. We are here to stay and we are going to struggle," she said in Spanish. "This ordinance affects everybody, not just immigrants, but our children especially. The children are the future of tomorrow and their education is very important."
Garcia's daughter Yesnia, 18, called the ordinance "ignorance."
"If they kick us out who is going to consume?" she asked.
The immigrant rights battles are helping to educate a new generation of voter activists.
Asked if she has registered and plans to vote in the November election, Yesnia replied, "Hell yeah, I'm going to vote. I told my mom, 'My vote is my voice.'"
plozano@pww.org