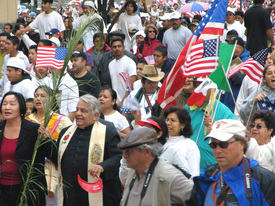 OAKLAND, Calif. – This city's International Boulevard was a sea of white shirts and American flags April 10 as thousands marched more than nine miles from the city's eastern border to City Hall downtown.
Walking beside the lead banner — "Family, Unity, Dignity, Values" – was Father Antonio Valdivia, pastor at St. Louis Bertrand Roman Catholic Church, the march's starting point. Father Valdivia and other religious leaders initiated the demonstration just weeks before.
Such actions are vital to let members of Congress understand how deeply millions of people feel about immigrant rights, Fr. Valdivia said as the ever-growing column moved briskly through the heavily Latino Fruitvale District. Citing Pope John Paul II's 1996 statement likening undocumented immigrants to the stranger Jesus urged his followers to welcome, he added, "It's up to us to keep up the fight for human rights in the spirit of Cesar Chavez."
The demonstration was a family affair. Babies peered bright-eyed from strollers, while toddlers rode high on daddies' shoulders. The largely Latino crowd of 10,000 included many students, and marchers said many workers took the day off to participate.
A common theme was participants' desire that their children should have a better life. Glancing down at her little daughters, Manuela, 23, put it this way: "It's for my kids' future. They will be able to go to college – things we couldn't do at home."
Araceli Solis, 28, marching with her young daughter and son, gave a harrowing account of her childhood in Mexico. Their family was often without food, she said, and four of her brothers died. "In Mexico there is no work," she said. "All we want is to work and be able to have a better life."
"To be with my people," said high school student Juan Zamora when asked why he was spending a spring vacation day walking. "Immigrants are the basis for this country. Several generations ago, my family, too, passed through the desert to get here."
Zamora said he had passed out fliers about the demonstration at school.
Our nation has always accepted people," said Sister Julia Hurtado of the Presentation Sisters, "but now it is becoming so closed-minded. The most important thing is that all justice-minded people need to stick together."
Vice Mayor Jean Quan and other elected officials welcomed marchers to the City Hall plaza for a final rally. Cheers greeted Congresswoman Barbara Lee's statement pledging solidarity "against any immigration bill filled with injustice and inhumanity," and calling for "liberty, justice and freedom for all."