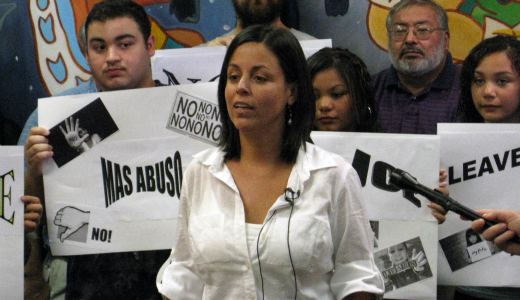 DETROIT – The Immigration and Customs Enforcement (ICE) released a report of its shocking March 31 raid at the Hope of Detroit Academy elementary school, but another shock awaited those who thought ICE might admit wrongdoing.
ICE's investigation showed no wrongdoing in the raid, even though officers in tinted-glass SUVs surrounded the Hope of Detroit Academy elementary school, playground and adjacent church – a clear violation of ICE's policies to avoid "sensitive" areas.
Labor and community leaders reacted with anger to the report during a press conference this past Monday at the Detroit Hispanic Development Center. "Surrounding an elementary school with immigration agents is a serious problem that deserves a serious response, not a whitewash," said Art Reyes from the Hispanic Latino Commission of Michigan.
United Auto Workers Vice President Cindy Estrada said, "I'm from southwest Detroit (where the raid took place) and I never thought I'd see the day when immigration is actually surrounding schools and targeting our children and the parents of our children." She called ICE's failed attempt at an investigation "outrageous."
Estrada emphasized she was also speaking on behalf of UAW President Bob King. She said the union has always stood for civil rights, was against racial profiling and would not tolerate injustice. "In the UAW we are not going to stand for it," said Estrada.
Democratic State Representative Rashida Tlaib, whose district includes southwest Detroit, said ICE failed to interview many witnesses to the raid.
One of those they seemingly, and inexplicably, failed to interview was Hope of Detroit Academy's Principal Ali Abdel. At an April press conference protesting the raid at his school, Abdel said he was outraged by the action, that the school became a "frightened ghost town" and some parents were afraid to pick up their children at the end of the day.
Tlaib told the story of a shameful racial profiling incident that gave moving testimony to the manner in which the local ICE office is run by Director Rebecca Adducci.
A community leader in southwest Detroit, a person of Latino descent who was born in this county, was giving a tour of the area to a tourist visiting from Germany. Agents stopped the car he was driving and instead of questioning the light skinned person from Germany sitting next to him, "completely targeted the person with the brown face."
The community leader later called her and said he was embarrassed by the incident. "You should not be embarrassed; you should be ashamed your country did that to you," Tlaib said.
Tlaib pointed out that areas that welcome immigrants see gains in their local economies, a boost the ailing southeast Michigan economy could surely use. Similar points were made by Michigan Governor Rick Snyder and New York City Mayor Michael Bloomberg during a recent conference on immigration at Wayne State University in Detroit. This growing realization may be an indication that the movement for immigration reform is gaining a much broader audience.
The speakers at the press conference voiced a growing frustration with the Obama administration for the increase in deportations taking place across the nation. Freddy Polanco of the Service Employees International Union said over a million deportations have occurred since the beginning of 2009.
Estrada explained they want the Obama administration to understand they are not just separating families when these deportations are carried out, but are creating fear in communities.
The next activity in this growing movement will be a demonstration called "March Without Fear" Aug. 20 in Detroit's Clark Park. Estrada said she would be there along with President Bob King. "I don't want any child, whether they're Muslim, Latino, African American or Anglo to be afraid to go to school. That's why we are going to march on August 20th against racial profiling and abuse."
Photo: Cindy Estrada. John Rummel/PW