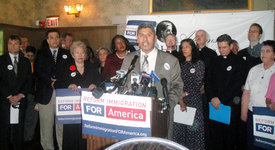 CHICAGO — A broad coalition of Illinois immigrant rights groups, community organizations, elected officials, faith, labor and business leaders launched a Reform Immigration For America national campaign here June 1.
Dozens of leaders made the announcement at a mid-day press conference at the historic Jane Addams Hull House at the University of Illinois at Chicago's campus. The Hull House, led by Jane Addams, was an organizing center and home to immigrant families in the early 1900s.
The new national campaign will promote what the leaders call a comprehensive legislative approach to make immigration laws work to serve the needs of American working families.
"We are launching this campaign at the site of Jane Addams Hull House, because today we need our leaders to show the same courage and creativity as Jane Addams, our first American woman Nobel Peace Prize winner, in recognizing the contributions of immigrants to our nation and to the state of Illinois," said Juan Salgado, board president of the Illinois Coalition for Immigrant & Refugee Rights and executive director of the Institute for Latino Progress.
"What Americans want across the country, and what we all want here in Illinois is a workable, practical solution that brings working families out of the shadows, that's fair to everyone, and helps lift our economy out of this crisis," said Salgado.
"The immigration laws are badly in need of repair, and we deserve a system that works and benefits all Americans," he said. This is a top priority that must be addressed this year, he added.
Rep. Mike Quigley (D-Ill.) said it's not right that families continue to be split up due to broken immigration laws. "We need to do what is right and fair and just for all Americans by passing immigration reform," said Quigley. "In the end America has always done the right thing."
Gustavo Garcia-Siller, auxiliary bishop of the Archdiocese of Chicago and leader of the Catholic Campaign for Immigration Reform, said an interfaith coalition of Catholic, Muslim, evangelical and Jewish groups support the drive.
"Each and every human being deserves respect and should be entitled to the freedoms of citizenship," he said. "The poor and disenfranchised deserve a just and compassionate path to citizenship."
"The broken laws divide our families, shut down businesses and are tearing apart communities," the bishop said. "This needs to be the year for change, and we are here united in passion for freedom."
Cook County Clerk of Circuit Court Dorothy Brown called for "humanitarian policies that includes the legalization of immigrants and the rights of undocumented labor." She noted that living conditions for all Americans and especially immigrants became worse under the eight years of the Bush administration. The legalization of immigrant workers will increase wages and restore our rule of law, she added, declaring, "We want Congress and President Obama to know that we are ready for immigration reform in America."
Secretary-Treasurer of the Chicago Federation of Labor Jorge Ramirez said he knows what it's like growing up in an immigrant household. "I am the son of immigrant parents from Mexico and I am a product of the Chicago labor movement," he said. "The outdated immigration system abuses working families and perpetuates a vulnerable underclass in America."
Undocumented workers are often not paid the minimum wage and many work in unsafe conditions, he said. "Yet they cannot stand up for their basic labor rights. Bringing undocumented workers into the system will protect them from exploitation, and all workers will benefit. We call on the Obama administration to follow through with their campaign commitments" on this issue.
Alie Kabba, executive director of the United African Organization, said, "Chinese, Korean, Irish, Polish, Muslim, Latinos, Arab, Africans and others are all here for a simple truism, if it's broken, then fix it." Kabba added, "We cannot pretend there are no problems because thousands of wives and husbands are being picked up and many of them have U.S. born children."
Mary Meg McCarthy of the National Immigration Justice Center said reforming immigration laws must include ensuring legal counsel and adequate health care for immigrants in the country's 500 detention centers. She said immigration officials detain up to 400,000 men, women and children each year. Since 2003, 90 people have died in immigration custody, she said. "It is time to fix a detention system that violates people's human rights."
Executive Director of Centro Sin Fronteras (Center Without Borders) Emma Lozano said no issue is more important than family unity in our communities. "When immigrant families are criminalized then we are all criminalized," said Lozano. "Today we say 'ya basta' (enough) to the separation of families."
Javier Salas, a Spanish DJ with Univision Radio, told the reporters, "Spanish radio supports reform. We are ready to mobilize once again to reach millions in order to get our message across."
The news conference here was part of a weeklong series of events, including 37 other local campaign launch press events in 20 states. Leaders from across the country plan to convene at a national summit in Washington June 3-5, bringing together 800 grassroots advocates representing more than 35 states. A national town hall meeting is scheduled on Capitol Hill June 4. Leaders here said a delegation of over 70 will head to the nation's capital to participate.
Those who want to learn more about the campaign and how to get involved are being encouraged to sign up at .
plozano @ pww.org