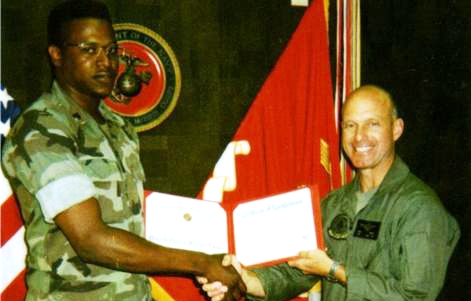 Up to 1,000 foreign born veterans, permanent residents, but not yet citizens are sitting in 350 detention centers across the country awaiting deportation.
The vets, many of whom suffer from post-traumatic stress disorder after serving in Vietnam, Iraq and Afghanistan, committed felonies after receiving honorable discharges. Under current law felony convictions require automatic deportation. A high percentage of the convictions are for drug related offenses.
Today 32,000 immigrants are in jail for various offenses pending removal to their home country.
One such detainee is Rohan Coombs, a Jamaican-born Marine who fought in Operation Desert Storm. Coombs who suffers from PTSD, was convicted of marijuana possession. After serving time in prison, Coombs was turned over to immigration authorities, reports Democracy Now.
Coombs who joined the Marines in 1988 was told by commanding officers that "he was a citizen for saying the oath to the military and for being told he was property of the U.S. and that made him a citizen. Now the judge in his case is telling him he is not a citizen and that he should be deported back to a country he hasn't been to in over 30 years."
The vet is currently detained at an El Centro California facility.
His case and others are being taken up by the National Lawyers Guild and veteran advocacy groups. The Lawyers Guild is arguing "that veterans should be considered U.S. "nationals" because when they enlist in the military, they have to take an oath of loyalty almost exactly like the oath people take to become naturalized citizens."
Immigration legislation amended in 1996 broadened the definition of "aggravated felonies" under which a person can be deported.
Legislation, HR 2988, has been introduced into Congress, to address the problem. The bill would amend "the United States Code to clearly state that U.S. military service members are non-citizen nationals and petition the Department of Homeland Security to stay their removal from the United States of America."
A website has been set up to spread support: http://banishedveterans.intuitwebsites.com/index.html.
Photo: Rohan Coombs, left, joined the marines in 1988 and was deployed to Iraq a few years later. While in the military Rohan filed for his citizenship but was told "You are property of the United States Government, that makes you a citizen". BanishedVeterans website.