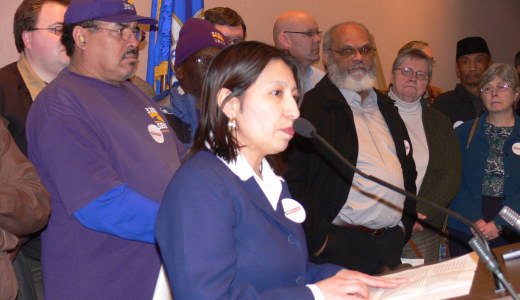 HARTFORD, Conn. – Immigrant workers across the country, joined by labor, clergy and civil rights organizations, launched a national campaign for immigration reform last week. Over 100 vigils, rallies and press events were held in 28 states including at the state Capitol here on January 15, the actual birthday of Martin Luther King Jr.
"We must affirm the United States is a nation built on the strength of immigrants," Talia Lopez, representing the faith-based United Action of Connecticut, emphasized at the rally here.
Last year, one month after the election of President Barack Obama, Lopez was among 50 from Connecticut who traveled to Washington to join a rally of several thousand on behalf of immigration reform legislation. Rep. Luis Guiterrez, D-Ill., visibly moved when he addressed the gathering on the steps of the Cannon House Office Building, pledged that immigration reform would be his top priority.
Twelve months later, Gutierrez, along with 70 colleagues in the House and the Congressional Hispanic, Black, Asian and Pacific American and Progressive Caucuses, unveiled the Comprehensive Immigration Reform for America's Security and Prosperity Act of 2009 (CIR ASAP). The legislation is the product of wide local input.
Kickoff events were coordinated by Reform Immigration For America, a national coalition of over 600 labor, faith-based and civil rights organizations working for "comprehensive reform that will protect workers and help with economic recovery, create millions of new taxpayers, keep families together, and protect the due process rights of all."
The national coalition highlighted a statement of support by the U.S. Conference of Catholic Bishops and a new poll by America's Voice which indicates that two-thirds of Americans "want Congress to pass comprehensive reform, including 69 percent of Democrats, 67 percent of independents, and 62 percent of Republicans."
In addition the coalition cited an economic report from the Center for American Progress and the Immigration Policy Center showing that immigration reform is a necessary part of economic recovery by adding $1.5 trillion to the economy, boosting all wages and adding $5.4 billion in tax revenues.
"With so many Americans suffering during the economic downturn, fixing the economy should be Congress's top priority," said Mehrdad Azemun, field director for Reform Immigration For America. "Comprehensive immigration reform would put the economy on a more stable footing, provide a vital boost for recovery, and increase wages for all."
At the state Legislative Office Building in Hartford, the capital city's mayor Eddie Perez added his voice in support of a path to legalization, citing 200,000 undocumented immigrants in Connecticut who face severe exploitation and are prevented from participation in society.
John Jairo Lugo of Unidad Latina en Accion, an immigrant rights organization, chaired the press conference here. "It's time to enact immigration reform. It's time to bring justice for the millions of immigrants that keep this economy running, who are underpaid, who are exploited, humiliated and who have their hopes with the Obama administration," he said.
Other events were held in the West, Midwest and South. In Charlotte, N.C., the venue had to be changed on the spot when nearly 2,500 showed up at a meeting of African American and immigrant community leaders where 900 were expected.
Photo: Talia Lopez, from the faith-based United Action of Connecticut, speaks at the Hartford rally. (PW/Joelle Fishman)