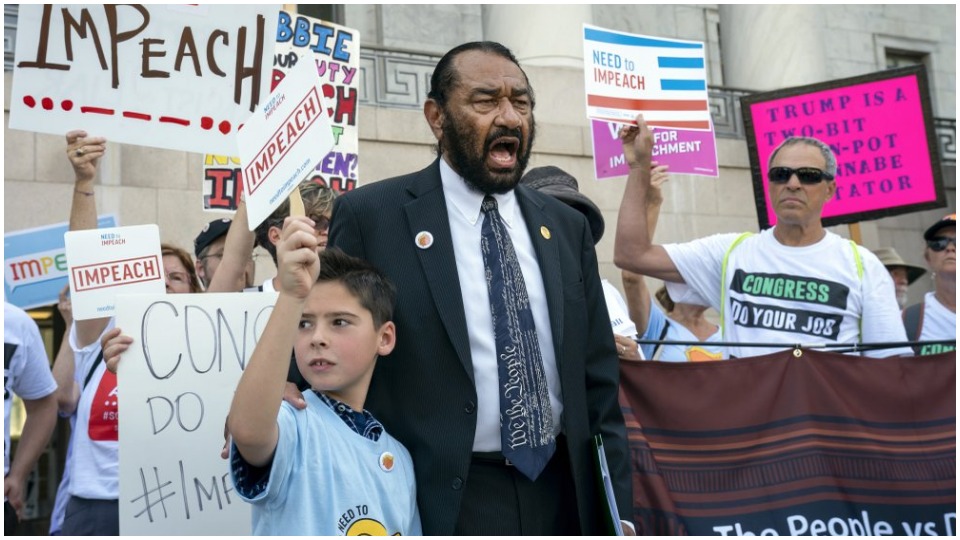 WASHINGTON—Whatever you may think of Ukraine's government—mired in corruption, red-baiting, xenophobia, and pro-Nazi anti-Semitism—Donald Trump's ultimatum to that nation's new president to dig up dirt on U.S. political foe Joe Biden, in return for foreign aid, was the trigger that pushed Democratic leaders to yield to the rising demand for the GOP incumbent's impeachment.
The latest outrage of course followed a long chain of Trump outrages: We had the Mueller report detailing manipulation of the 2016 election, we saw the Republican president's frequent obstruction of justice in trying to kill Mueller's probe, we saw Trump's violations of the U.S. Constitution's emoluments clause to enrich himself and his corporation, and we saw his constant campaign to smash workers and their unions in the leadup to the latest shocker.
We have seen too his tax cuts for corrupt corporations and the 1%, the rampant corruption among Trump's family, aides, and Cabinet members, his hatred of anyone black or brown or Muslim or anyone who's a non-white Northern European Protestant "Christian" male.
But Trump's ultimatum served on Ukraine's new president, former satiric comedian Vladomyr Zelensky—who is funded by one of Ukraine's wealthiest interests—pushed the pro-impeachment tide to a point where House Speaker Nancy Pelosi, D-Calif., finally gave in.
After a closed-door late-afternoon meeting with her dominant Democrats, and after first-year lawmakers from swing districts started calling for an impeachment probe due to the Ukraine mess, as did civil rights icon Rep. John Lewis, D-Ga., Pelosi agreed. So did other top Democratic leaders.
"I have grave concerns about the president's troubling admission he sought Ukrainian interference in the 2020 election, undermining America's national security," Majority Leader Steny Hoyer, D-Md., said.
"As the relevant committees continue their investigations under the umbrella of the impeachment inquiry, we will continue to pursue the facts and follow them wherever they lead—including to articles of impeachment.
"The House will carry out its responsibilities on behalf of the American people with integrity and with care, ensuring no individual ever stands above the law."
Read the People's World feature analysis:

Impeaching Trump: Finally convinced, Pelosi opens formal inquiry
The momentum for the action taken yesterday by Pelosi started building soon after Trump took office.
"The moment Donald Trump took the oath of office for president on Jan. 20, 2017, the nation began hurtling toward a constitutional crisis," now former Communist Party USA chair John Bachtell wrote on Feb. 8 of that year.
Bachtell cited Trump's violation of the Constitution's emoluments clause, his Muslim ban, his orders to the Border Patrol to defy anti-Muslim-ban federal court injunctions, and Trump's general denigration of other branches of government, especially the judiciary.
"If Trump and the executive branch are permitted to ignore court orders, they no longer recognize Marbury v. Madison, the landmark Supreme Court ruling that upholds the separation of judicial and executive powers," Bachtell wrote then.
"This would be a serious breach of democracy. It would be the first step toward normalizing authoritarian rule and toward elimination of broad democratic rights and institutions altogether, reminiscent of classical fascism."
The popular movement to impeach Trump started soon afterwards. Hundreds of thousands of people descended on D.C. for the women's march the day day after his inauguration. A "mock wedding" of Trump and big business drew a Capitol Hill crowd three weeks later, including a Democratic congresswoman already calling for his impeachment. Marches demanding Trump's ouster haven't stopped, in D.C. or elsewhere.
"Ugh. Where do I even start?" asked one hand-made sign at the latest march, on Sept. 21 through downtown D.C. to the Capitol and past Trump's Constitution-busting hotel. "I can't fit it all in" another read, surrounded by a complete cloud of Trump transgressions.
"Let's be perfectly clear. This would not have happened if it weren't for the tireless activism and organizing by concerned Americans like you," Common Cause President Karen Hobert Flynn said. "Many top Democrats were reluctant at first to pursue an impeachment investigation, putting temporary partisan calculations before their constitutional duties.
"But together, we spoke out loudly and clearly to demand that Congress fulfill its constitutional duty and hold the executive branch accountable."