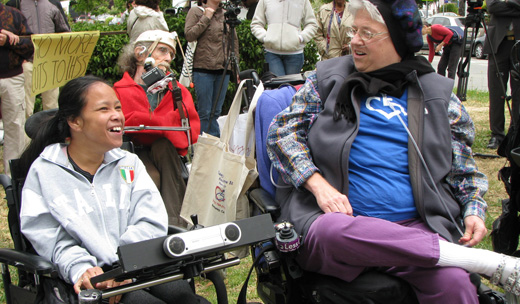 More misery loomed for Californians May 14 as Governor Jerry Brown delivered a revised 2012-13 budget projection doubling the already-deep cuts he called for in January. The new budget proposal now goes to the state legislature, which is supposed to send its version back to the governor by June 15.
Brown warned over the weekend that the expected deficit has risen to nearly $16 billion, up from $9.2 billion as stated in January. He blamed lower-than-anticipated tax receipts, increased requirements to fund K-14 education under a 1988 ballot measure, and court and federal government actions blocking earlier attempts to cut Medi-Cal (California's Medicaid program) and In-Home Supportive Services (IHSS) that helps disabled and old people remain in their homes.
"Because of all that, we have a more difficult problem," he told journalists. "We're going to have to cut deeper."
The $4.1 billion in cuts Brown proposed today come on top of the $4.2 billion he proposed in January.
Among the new measures:
Lowering state workers' pay by 5 percent through shifting workweeks to four 9.5-hour days.
Eliminating thousands more state workers' jobs.
A 7 percent reduction in hours of care for people receiving IHSS services.
Applying funds from the National Mortgage Settlement with banks to pay for what the state is already spending to help homeowners.
Cutting payments to hospitals and nursing homes that care for Medi-Cal patients.
"But cutting alone really doesn't do it," Brown said. "The serious budget reduction combines increased austerity with a plea to voters: Please increase taxes temporarily on the most affluent, and everyone else with a quarter of 1 percent sales tax."
The governor was referring to the $5.6 billion in revenues he hopes will come from his initiative to temporarily increase personal income taxes on incomes over $250,000 a year, and impose a small sales tax hike. Organizers say over a million signatures have been gathered to put the measure, which would benefit K-14 education, on the November ballot.
If the initiative fails, Brown projects an additional $6.1 billion in additional cuts, effective in January 2013 – nearly all from education, with K-14 taking the biggest hit.
The ballot measure is center stage now because a two-thirds legislative majority is needed to raise taxes. Democrats lead both legislative houses, but fall short of that supermajority. Nearly all Republicans have signed a Grover Norquist "no new taxes" pledge.
Reactions were quick in coming.
"For every cut the state is asking seniors, those with disabilities, workers and low-income Californians to absorb in the May Revise, there's a wasteful corporate tax break that's draining much needed revenue," California Labor Federation head Art Pulaski said in a statement. "The cuts proposed today aren't born of necessity; they're the result of a failed system that protects tax giveaways for the wealthy and well-connected at the expenses of California's most vulnerable. That's inexcusable."
State Senator Mark Leno, D-San Francisco, who heads the Senate Budget Committee, blamed former Gov. Arnold Schwarzenegger for leaving Brown a $20 billion budget gap, and said the state cannot thrive while giving tax breaks to large corporations and scaling back social programs.
"Few California patients will not feel the impacts of these budget cuts and changes in some way," said Anthony Wright of the Health Access coalition.
California Attorney General Kamala Harris sharply criticized the governor's proposal to shift $410 million big banks must pay under the National Mortgage Settlement "from the state's homeowners to other budget purposes." She pledged to work toward a "balanced budget that honors our obligations to California's homeowners."
Meanwhile, Republican legislators took out after Brown's ballot measure to tax the rich, urging the governor to focus instead on ending regulations "that stifle business" and "create a less hostile business climate," actions they contend would lead to job creation, lowering California's official unemployment rate of 11 percent.
Photo: At a June 2010 demonstration against cuts to California's IHSS program. Marilyn Bechtel/PW