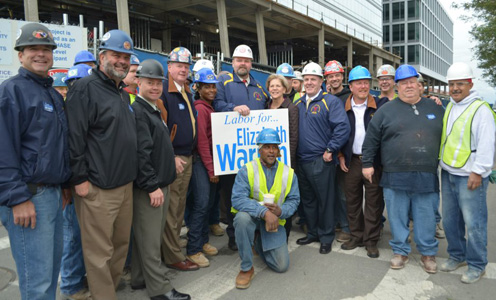 WORCESTER, Mass. — The race for the Senate seat formerly occupied by the late Sen. Edward Kennedy, D-Mass., has drawn a huge turnout of voters, especially in the Boston metropolitan area.
State officials believe that the turnout is so high that it could be record breaking in some places.
Sen. Scott Brown defeated this state's Attorney General, Martha Coakley, after a special election was held to fill the seat, which had been vacated when Sen. Kennedy passed.
Now, Elizabeth Warren, the progressive Harvard law professor, is challenging Brown. The race has been extremely close, though pollsters think that Warren holds a slight lead. Democrats and other supporters of Warren say that high turnout could break in her favor. Whoever has the best ground operation, they say, will win.
Brown, who won his seat partially because Coakley ran what most considered to be a terrible campaign, and partly because he road the then-popular tea party wave, has tried to distance himself from his most right-wing positions and to portray himself as "bipartisan" in nature. Warren, on the other hand, makes no bones about being left of center. She has voiced strong opposition to policies that favor big business over working people, and the labor movement considers her a friend.
The race has become national in nature, with both parties putting a high symbolic value on it. The GOP sees value in holding a Senate seat in the famously liberal Massachusetts, while the Democratic Party, obviously, wants Ted Kennedy's seat held by another liberal Democrat.
In the central Massachusetts region, the city of Worcester and Worcester County are seen as crucial to the race. In the 2010 special election, Brown won every city and town in the 60-plus municipalities of the county, except for the city itself and the town of Harvard.
Democrats and the labor movement have been operating a heavy GOTV operation in the area, especially in the city of Worcester, which is heavily Democratic. They argue that if they can turn out enough votes here, it would cut into Brown's support and Warren could win by a clear margin.
U.S. Rep. James McGovern, who represents Worcester in Congress, said, "It will be up to us to get out there and do what we need to do. That means the canvassing, the get out the vote calls, driving people to the polls. If we turn out our vote we are going to have an incredible victory… But we have a lot to do."
Photo: Elizabeth Warren and workers at a south Boston construction site. From her Facebook page.