OAKLAND, Calif.—Crowds in the thousands and tens of thousands filled the streets in cities and towns across northern California Jan. 20, as Women's Marches swept the country.
Northern California's largest march brought an estimated 100,000 people into the streets of San Francisco, while in the state's largest action, half a million people came together in Los Angeles.
Here in Oakland, tens of thousands of women and girls, joined by many men and boys, gathered for a rally on the shores of the city's iconic Lake Merritt before marching across downtown to City Hall. There, dozens of organizations signed marchers up to participate in actions emphasizing voter registration and education leading up to the November 2018 midterm elections.
Women's March Oakland co-chair Ivonne Quiroz told the rally crowd of 50,000 that march organizers will partner with the League of Women Voters and Black Women Organized for Political Action in registration and education efforts. "We want to make sure everyone in Oakland and the East Bay has what they need to be informed voters. So whether you need a stamp to mail off your ballot, someone to help you fill your ballot out, or to come and learn about what's on the ballot—that's what we'll be doing this year."
Key "issues of focus" will be civil rights, immigrant rights, and ending violence, "including the work around #MeToo," Quiroz said.
Featured speakers stressed the urgency of building unity among women throughout our society.
Opening speaker Betty Yee, California's State Controller, began by asking the crowd, "How many of you are fired up and ready to run for office?" Hands went up throughout the crowd.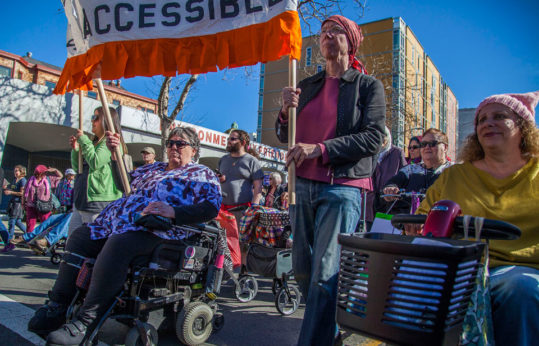 Though last year millions of women and girls marched for economic and social justice, and equality for all, she said, "that dream is still far from being reached, because in my mind, it is not specific enough with respect to what we know women and girls are experiencing today.
"Every day, a sister juggles two or three jobs that do not pay what her hands and smarts are worth. Every day a sister has to decide where the roof over her and her family's heads will be tomorrow, next week, next month. Every day a sister struggles to get the health care she needs for herself and her family. … And every day, another sister slips into the shadows for fear of being picked up and deported.
"Every day, a sister fears being a victim or a witness to a hate crime, just for being who she is, whether black, transgender, Muslim, or any other identity. Every day another sister speaks of what is unspeakable for many, about her experience of being sexually assaulted or harassed—not just in Hollywood or tech or politics, but our sisters who clean our hotels and office buildings, and who pick and serve our food.
"These sisters are our sisters, they are why we march."
Calling women's votes "our most important voice," Yee told the crowd, "Make no mistake—we are not up for grabs! Grab 'em by the midterms!"
East Bay Congresswoman Barbara Lee, who had planned to come to the Oakland rally, had to remain in Washington, D.C. because of the ongoing government shutdown. By video, she told the crowd, "When we took to the streets last year, many tried to write this movement off as a fleeting moment. But they were wrong! This march is about galvanizing change. … We are moving forward, and we aren't slowing down! We stay woke!"
Lara Kiswani of the Arab Resource and Organizing Center continued the emphasis on building unity across-the-board. "I'm Arab, Muslim, Palestinian, and woman," she told the crowd. "We are here to say we are not only going to continue to defend and protect one another, we are also going to continue to build power, build across movements, and we are going to win!"
The leadership of women of color, LGBTQ women, poor and working-class women is essential to build a powerful movement for liberation and dignity, Kiswani said.
To shouts of approval from the crowd, she declared, "Let me hear you—that you, and we, are ready to join a movement against racism and white supremacy globally, that you are ready to join the movement against war and state violence everywhere!"
Among the many other northern California cities and towns hosting marches thousands-strong were San Jose, Walnut Creek, Pacifica, Santa Rosa, Sonoma, Sebastopol, and Chico.