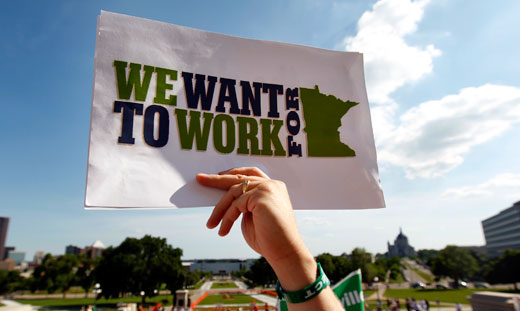 ST. PAUL, Minn. -No person expects job hunting to be simple, but for many unemployed Minnesotans it can begin to seem hopeless.
The AFL-CIO, in a pilot project in the Twin Cities and in six other areas, is trying to bring some hope back – along with practical help.
That's why it's launched the Minnesota Wants To Work Coalition. If the effort succeeds, the labor federation plans to expand it nationwide.
The coalition is designed to help people like Shawn Singleton. He's a former sales representative for Pre-Paid Legal who has been job searching since becoming unemployed two years ago. His efforts have ranged from newspapers to websites, from job fairs to WorkForce Centers, but to no avail.
Singleton is not alone. The struggle to find and keep jobs has left many people unemployed.
The Minnesota Wants To Work coalition is part of a pilot program designed to give a voice to unemployed workers. The coalition seeks to organize unemployed and underemployed workers into a group powerful enough to make their collective voices heard by decision-makers.
A secondary goal of Minnesota Wants To Work is to provide unemployed workers with useful resources to aid in their job search and to help with financial hardships.
Minnesota Wants To Work is Minnesota's contribution to a larger program, America Wants To Work, which is in turn an expansion of Working America, the AFL-CIO's community affiliate. Working America succeeded in organizing large groups of people quickly, and the America Wants To Work expansion of this program makes it possible to include the broader community of unemployed workers, organizers say.
America Wants To Work has been launched in seven states, and its success in Minnesota will help determine whether or not the program will continue and expand.
Minnesota Wants To Work is led by the Minneapolis and St. Paul regional labor federations, the Minnesota AFL-CIO, Working America and the Minnesota Dislocated Worker program, with the aid of interns in the AFL-CIO's Union Summer program.
To date, Minnesota Wants To Work has focused on serving the unemployed and finding out from people first-hand what they want to see from the program.
At a recent Minnesota Wants To Work service fair, unemployed workers met with representatives from partnering programs, including Bridge to Benefits, Fare for All, Portico Healthnet, the United Way, Community Action Partnerships of Ramsey and Washington Counties and the Neighborhood Development Alliance.
Meanwhile, Minnesota Wants To Work team members have been researching and brainstorming ways to creatively and effectively organize the unemployed. By looking at our nation's past and present unemployment programs, the coalition began to build a strong foundation for future action.
"The unemployed worker is becoming the silent majority, which will eventually become the boisterous majority," said Bobby Kasper, president of the St. Paul Regional Labor Federation. "We need to pay attention to the unemployed union worker."
The unemployed are not the only people who the Minnesota Wants To Work coalition hopes to recruit, however.
One of the challenges leaders of the program foresee is retention of members. There is a possibility that, as unemployed workers are hired, the movement for job creation may lose momentum.
For this reason, it is essential that the Minnesota Wants To Work coalition's member base includes active and passionate people from all walks of life, whether unemployed, underemployed or working full-time. Pushing for job creation rather than job elimination is something that will benefit all Minnesotans, and more support means more power.
Shawn Singleton, though he has been unemployed for two years, remains optimistic about every job he applies for. Organizers at Minnesota Wants To Work hope to see Singleton and his fellow unemployed workers remain hopeful and succeed in their quest for jobs. Through organization and cooperation, the Minnesota Wants To Work program can work for unemployed and underemployed workers.
Kelsey Eide is an AFL-CIO Union Summer intern with the St. Paul Labor Federation.
Photo: At a rally at the Minnesota State Capitol, July 6, in St. Paul, Minn. (Carlos Gonzalez /The Star Tribune/AP)