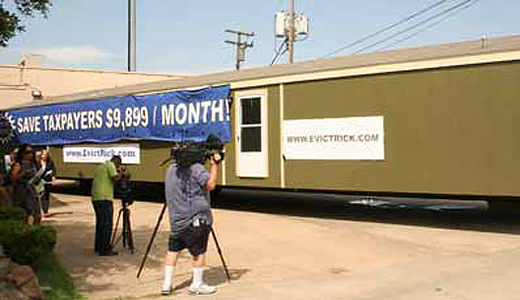 DALLAS — While the Republicans hold their convention here, the Texas AFL-CIO held a press conference to highlight that these "fiscal conservatives" have dropped the state into an $18 billion deficit hole.
Standing beside an inflatable elephant, State Federation President and Southern Region Vice President Becky Moeller said, "We think the issue is simple. At a time when Texans are hurting for jobs and the state is preparing for a time of austerity, the governor of Texas – who is calling for less government and more cuts — should set an example of sacrifice."
Instead, the Associated Press has revealed that as much as $600,000 taxpayer dollars have gone to provide a luxurious temporary governor's mansion in the scenic Austin hills, while his state-provided mansion is being repaired.
At the convention nearby, the governor was touting his cost-cutting abilities and associating his Democratic opponent with "liberal," "intellectually elite," "left-wing ideology," "gun control," and "worship of big government."
AFL-CIO's Moeller, meanwhile, re-offered to rent the governor a three-bedroom manufactured home for $1/month to save taxpayer money. The trailer house was parked outside and in plain view of Texas Republican delegates.
In a most serious tone, Moeller acknowledged that people might consider her offer a stunt, but asked reporters to look at Gov. Perry's luxurious home (it's on YouTube click here or here ) and then answer the question, "Which of us is being serious about state finances?"
Photo: Here is the trailer home being offered to Texas Governor Perry, which would save taxpayer money. (Jim Lane/PW)