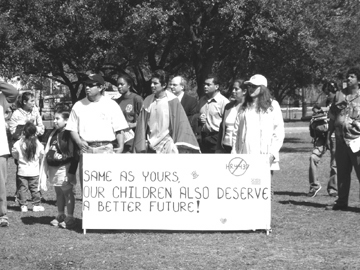 Some 1,500 demonstrators marched from Houston's Galleria shopping center to Grady Park Feb. 26 in a "March for Dignity and Respect" opposing Rep. James Sensenbrenner's (R-Wis.) virulently anti-immigrant HR 4437, many provisions of which are included in a new bill by Sen. Arlen Specter (R-Pa.). The event was organized by CRECEN, a local organization helping immigrant workers and their families.
The House bill would criminalize undocumented workers and anyone helping them including teachers, social workers, clergy and health care providers.
Marchers, spanning all ages and many ethnic backgrounds, were in high spirits as they chanted, "Arriba! Abajo! Sensenbrenner al carajo!" (Above and below, Sensenbrenner go to hell!), and "Ni terroristas, ni llegales, somos trabajadores internacionales!" (Not terrorists, nor illegal, we are international workers!)
Labor was well represented, with SEIU members especially visible in Justice for Janitors T-shirts. Also marching were the National Alliance of Latin American and Caribbean Communities, America Para Todos, and the Salvadoran American National Network.
"We would like the immigration laws changed to allow the immigrants here to be permanent residents," Lorenzo Guevara of Hondurenos Unidos de Texas told the World. Guevara said the proposed law would reduce everyone's human rights while hurting the U.S. economy and security.
"We want to let the people who are trying to take immigrants' rights away know that Americans of Mexican descent feel a bond with the immigrants and will not let them struggle alone," said Deniz, an activist with the Chicano Student Alliance.
SEIU spokesperson Autumn Weintraub said her union is working throughout the country to make sure any Sensenbrenner-like bill does not pass. "We have long felt that the system is broken and there are creative solutions to the problem," she added.
A day earlier in California, over 1,000 protesters filled the plaza of St. Elizabeth's School in Oakland's Fruitvale district for a rally organized by the Northern California Immigrant Workers Freedom Ride. Again, the multiethnic crowd spanned all age groups and included delegations from many unions and community organizations. The program was conducted in Spanish and Chinese as well as English.
"Wherever we are from, we need each other's support," Dr. Mac Jatto, a priest and Nigerian immigrant, told the crowd. "We want unity!"
"We are never going to be able to be fair to immigrants until agribusiness and others who exploit immigrants stop doing it, and until we recognize the contributions that immigrants make to our society," said Assemblymember Wilma Chan.
The crowd erupted in cheers as Claire Horton, a physician at La Clinica de la Raza, told them, "We are going to continue to give you health care, no matter what." But, she warned, "I fear that if this law passes, people will stop seeking our services," with disastrous results for patients and for public health throughout the community.
Several speakers cited the role of the war in Iraq in slashing the resources needed to meet human needs at home, including aid to the victims of Hurricane Katrina.
A dramatic high point of the rally was the destruction of a poster behind the stage, symbolizing HR 4437 as a gray stone prison wall.
phill2@houston.rr.com,