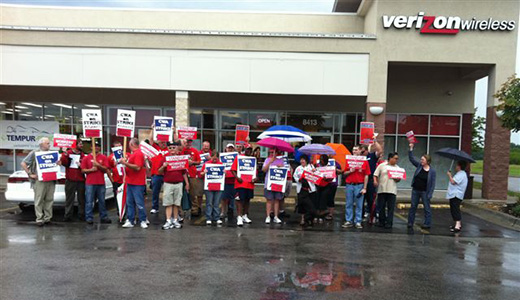 KANSAS CITY, Mo. – On a cool, rainy day, Aug. 12, some 30 or 40 people gathered at a suburban Verizon Wireless store in support of a struggle happening a thousand miles away. They cheerfully waved signs and chanted their support for the Communications Workers of America strike. Drivers going by honked and waved in solidarity. CWA Local 6360 Vice President Todd Appleby stood a careful 15 feet from the storefront, in the parking lot, handing out informational flyers.
The demonstration included workers, activists and organizers from the CWA, the International Brotherhood of Teamsters, Jobs With Justice, the Retired Teachers Association, the International Brotherhood of Electrical Workers, the United Food and Commercial Workers union, the United Auto Workers, and unaffiliated citizens who chose to stand in solidarity with the 45,000 CWA workers currently on strike.
Considering that the current strike is against Verizon's landline division, which only operates along the East Coast, some might wonder why these people took the time to show support. For Appleby, the answer is simple. "An injury to one is an injury to all of us," he says in a matter-of-fact manner. While this strike does not directly affect CWA workers in Kansas City, its ramifications will certainly come around.
Widely described as the "Wisconsin of the private sector," this fight is on a national scale. If Verizon gets the more than 100 concessions they have demanded, the average CWA worker stands to lose $15,000 to $20,000 a year. More significantly, a win for Verizon wouldn't just a be loss for CWA workers on the East Coast. It would be a serious blow to union and non-union workers across the country, as corporations would be even more emboldened to take from the worker and give to the rich.
Meanwhile, the company continues to rake in billions in profits and funnel them to the top. Verizon Communications' CEO Ivan G. Seidenberg is the number 10 highest-paid executive in 2011, according to forbes.com, with a total compensation package worth $36.75 million. That's nearly five times the median pay – for CEOs – in the telecommunications sector. And more than 600 times what a typical CWA worker makes.
CWA Local 6450 President Colleen Downing casts the situation as a matter of fairness. "It's ridiculous that in this economy they're trying to take more from workers [and] using it [the economy] as an excuse." Downing goes on, "It's time for companies like Verizon to be good corporate citizens."
Another picket has been planned for next Friday, 11:30 a.m. at the Verizon Wireless store on Linwood and Main in Kansas City. All who wish to stand in solidarity are encouraged to attend.
Photo: Solidarity in the rain, Aug. 12 in Kansas City, Mo. Courtesy Todd Appleby, CWA Local 6360.

Corrected 8/16: An earlier version of this article incorrectly stated the date of this demonstration. It took place Aug. 12.