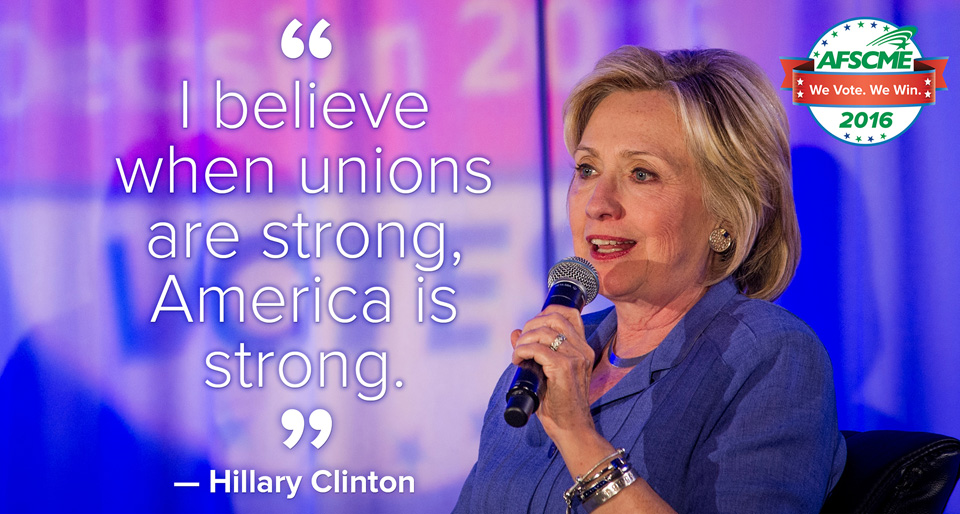 WASHINGTON – As part of launching a new, massive campaign to elect Hillary Clinton, AFL-CIO President Richard Trumka has issued a new video message. Click here to see it.
According to an announcement from the AFL-CIO, "In the final days before the election, the AFL-CIO will drive a powerful grassroots campaign and launch a digital ad blitz to union households and allies."
Here in Washington, the campaign will include union members and their allies building a symbolic wall around the White House to keep Donald Trump out. For information, go to www.StopTrump.org.
Across the country, union members will "speak with millions of voters at the doors and on the phones."
Moreover, between now and Election Day, the Federation will send to union households in key states nearly half a million mailers and 1.4 million cards listing pro-worker candidates.
The campaign will also include a six-figure digital ad buy on eleven prominent media sites in the battleground states of Florida, Nevada, Ohio and Pennsylvania.
The following online media outlets will carry the ads: the Las Vegas Review Journal, the Miami-Ft. Lauderdale Sun-Sentinel, the Orlando Weekly, the Tampa Bay Times, Jacksonville FOX-WFOX, Jacksonville First Coast News, the Cleveland Plain Dealer, the Columbus Dispatch, the Toledo Blade, the Philadelphia Inquirer and the Pittsburgh Post-Gazette. The ads will point readers to a web page where they can sign up to volunteer for the campaign. You can view the ads here.
Furthermore, in Philadelphia, as part of its Black voter program, the AFL-CIO will run radio ads in predominantly African American media markets that will encourage listeners to vote.
All three AFL-CIO officers will continue their rigorous travel schedule across the country to engage with union members in battleground states including Florida, Missouri, Nevada, North Carolina, Ohio, Pennsylvania and Wisconsin.
"The case for Hillary Clinton stands on its own," says Trumka. "We are not choosing the Apprentice. We're electing the leader of the United States of America. Hillary has the ideas, experience and drive to transform our economy into an engine for shared prosperity."