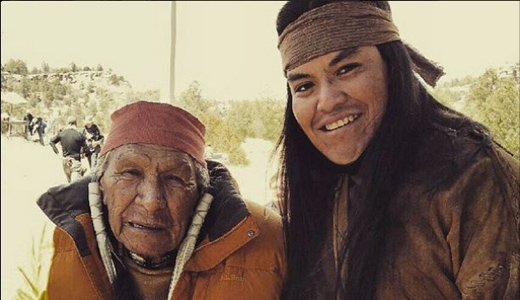 Native Americans, including myself, were excited to hear that Netflix and Adam Sandler used real Native actors on the set of his new film Ridiculous Six. We were told that there was going to be cultural advisor to make sure the production would be culturally sensitive to the Native American actors on set.
Then, on Apr. 23, over a dozen of the Native actors and the cultural advisor walked off the set. Why? Because in the year 2015 we have to deal with racist stereotypes, for the sake of comedy. Clips of the movie were released after the walkoff. It shows names of some of the female characters in the movie and the jokes that went along with them. Characters with distasteful names like " Beaver Breath" or "Never-Wears-A-Bra." The script goes on having the "Native" characters speaking in old hollywood Indian style broken english with fake Native words. Not only did the actors talk about the racist script but also the complete lack of respect for anything Native on the set including the props and parts of the set.
Two actors that walked off the set, Loren Anthony and Allison Young, of the Navajo Nation, gave a detailed interview with Indian Country Today, saying "We were supposed to be Apache but it was really stereotypical, and we did not look Apache at all. We looked more like Comanche."
Reducing a whole group of people down to stereotypes further dehumanizes Native people. The indigenous peoples of this land come from over 500 nations, all with their own cultures and traditions. Allison Young speaking of her experience on set, remarked, "The producers just told us, 'if you guys are so sensitive, you should just leave.' " I was just standing there and got emotional and teary-eyed. I didn't want to cry, but the feeling just came over me. This is supposed to be a comedy that makes [people] laugh. A film like this should not make someone feel this way." She concluded, "Nothing has changed. We are still just Hollywood Indians."
No one should have to be reduced down to hurtful and harmful images. This is one of the reasons why Native people are fighting so hard to end racist team mascots. These images hurt people. And when groups of people are dehumanized like this, it opens doors to social and economic violence. Reducing our women to harmful stereotypes brings harm to our women, by turning them into objects instead of people. This is one of the reasons why there is an epidemic of missing and murdered indigenous women.
So why didn't the producers listen to the actors? What happened to that cultural advisor? The film cultural advisor Bruce Klinekole (Apache) also walked off the set of the movie, after seeing that the production team did everything in their power to ignore him. In his interview with ICTMN, he talked about the harmful and unsafe props they were having the Native actors use for the stereotypes they were planning on using on the set design. One of the largest disagreements Klinekole had was on the use of a tipi on the set.
"I know the significance of a tipi – and they disgraced that tipi. I told them to have the front door facing east; I also said it would need a very wide door with the smoke flaps down, and that it would need to be big enough so that people could stand inside of it. I told him that the Medicine Man would be right there. When I saw the tipi they not only had a front door, but they had a back door, I said "What's this back door stuff?"
He continued, "They also had flower and vines and stuff all over the tipi and they had fake eagle feathers on each of the poles. I said, 'what's going on here?' I talked to the guy who was designing this, and asked who told him to do this. He said he was just going by what they told him to do. I told him it was a total disgrace."
So they hire a cultural advisor but completely dismiss his wishes. Who are they trying to fool here? Perhaps people like Vanilla Ice. After the walk-off, Vanilla Ice, who is also in the film as Mark Twain, sent out a tweet claiming that he was Native. He proclaimed he is "Chactaw Indian;" I'm not sure what a Chactaw is, but we think he meant Choctaw. The Choctaw Nation looked into his claim; they found out that Vanilla Ice is not a member of the Nation.
And they further went on to show that he has German family history. Now we wait to see if Adam Sandler or the rest of his team will make a statement about these events. Personally, I think Sandler needs to re-evaluate what is satirical comedy, and how to execute it without reducing it to harmful and disgusting stereotypes. If he can't do this, then perhaps he should step away from satire.
Photo: Loren Anthony (right), one of the indigenous actors who walked off the film set. | Instagram