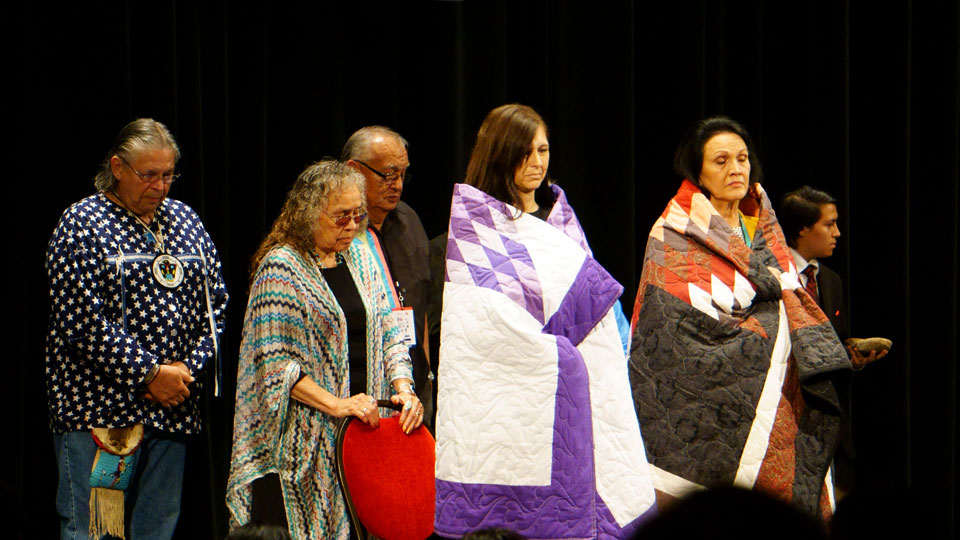 SIOUX CITY, Iowa—The road to the White House, as they say, begins in Iowa.
As summer slowly turns to fall in the third year of Donald Trump's catastrophic presidency, national news outlets and presidential candidates turn their attention to this agricultural state.
Iowa—home to the Dakota-Sioux, Ho-Chunk, Ioway, Missouria, and Otoe Native American Tribes; bordered by the Mississippi and Sioux river(s) and six other Midwest states; and whose name comes from the Sioux word meaning "the sleepy people."
While steadily cruising north up Interstate 29 north towards Sioux City, I wondered, why is this state so crucial in winning the presidency?
Iowa certainly isn't a fair representation or a diverse cross-section of American voters, so why is it such a coveted prize?
As I continued the drive with thoughts of "why Iowa?" I saw rural roads flooded thanks to a particularly wet crop year (read climate change)—a visual representation, perhaps, of the American public's political inundation: An overwhelming number of Democratic presidential candidates coupled with the daily strains of watching Trump's Twitter feed. Family farms were also eerily quiet, they too being victims of Trump's total economic war.
The simplest answer to "why Iowa?" was given in 1972 by then-Democratic presidential candidate Sen. George McGovern: "Iowa is terribly important. It's the first test in the nation, where we get any test at all."
Iowa voters are the first in the nation to show their support for candidates, with its February caucuses. The level of support candidates receive in Iowa is an early indicator of how they might do with the rest of middle-American voters (at least the white ones).
But it's August, and I wasn't driving seven and a half hours to a small city, bordered by both Nebraska and South Dakota, for a caucus.
A matter of trust…and sovereignty
I was off to witness a historic and perhaps even more significant event: the Frank LaMere Native American Presidential Candidates Forum. The first of its kind in the history of American politics, the event was dedicated entirely to issues concerning Native American voters—the long-abused and often forgotten (by policymakers) first people of this continent.
"You know, we sent out invitations to all candidates, both Republican and Democrat," said Barb Semans, co-executive director of Four Directions, a Native American voting rights organization that was one of the organizers of the candidate forum.
I caught up with her casually standing outside the Sioux City Orpheum theater on a break between candidates.
The sidewalk was crowded. Audience members milled about discussing the most recent candidate's performance and looking at their phones for nearby cafés to get a caffeine fix. News trucks lined the sidewalk in front of the main entrance.
"For us, the acknowledgment of our issues by the candidates who responded and came, who heard our questions, listened to our concerns, and asked to learn about our history is just wonderful, and marks a change in our history with elected officials," she continued.
Not all candidates responded.
Donald Trump was sent a personal invitation, but it's hard to imagine him taking time out from golfing, or tweeting, to care about issues affecting Native American communities.
Democratic presidential candidate Sen. Cory Booker declined the invitation. Ironically, his campaign HQ was only a few hundred steps from the theater. I stopped by there to take a look, and, peering through the windows, saw a fairly empty office. The lights were out, scraps of paper were scattered on the floor, and a few campaign signs decorated the windows; there was nothing more.
Former Massachusetts Gov. Bill Weld, a Republican challenging Trump in the primary, also declined the invite—missing an opportunity to paint the Republican Party as something other than inept and destructive.
Previous articles from the Frank LaMere Native American Presidential Forum:

– History maker: Native Americans to host first presidential candidate forum

– Elections 2020: Warren and Klobuchar address Native American presidential candidate forum

– Sanders a hit at the Native Presidential Candidate forum

– Castro showcases specific indigenous policies at Native forum, but Delaney stumbles

– Bullock, Harris, and de Blasio join Native presidential forum via Skype
As Semans put it, moving forward it would be hard for people here to trust or take seriously some of the candidates who didn't bother to respond.
"This [the Native forum] was an effort to rebuild trust, lost long ago, between sovereign Indigenous tribes and the U.S. federal government," she said. "And while it's telling to see who came, who didn't, and who said nothing, this moment allows us, nonetheless, to be directly involved in the political process moving forward.
"Even if none of the candidates who came win the Democratic nomination, they will still run for local office or Congress, and now they'll remember to look at Native American issues, and they'll take our voices and votes seriously."
As the countdown to welcoming the next candidate began, Barb Semans's family quickly gathered around for a photo and began making their way back inside. Before we went our separate ways, I asked her what she would like to see in the long run, big picture, after this event.
"We (the Native peoples) are a sovereign nation in the U.S., and I would like to see us someday have full recognition of our sovereignty by the federal government, just like every other nation around the world," she said. "Just think, after every war the U.S. is involved in, the government usually invests time, money, and resources to rebuild those nations. It's about time they invest in reconstructing Indian Country—since they are responsible for its destruction."
Fighting Native vote suppression
In recent years, Native American voters, who greatly impact elections locally and nationally, have become a threat to a "certain" political party.
And, as is typical of Republicans, rather than confront the issues and create real dialogue with Native voters, they choose to suppress their vote, knowing full well they would likely go with the Democratic opponent.
In several states, Native Americans are forcefully discouraged from heading to the polls by strict voter ID laws requiring proof of address for identification, which is difficult for many voters to obtain, as tribal nations are located in rural areas without formal addresses issued by the U.S. Postal Service.
Distance to polling locations is also an issue, as they are typically far away from those nations.
In 2017, North Dakota passed a law requiring proof of address to vote, and would not accept Native ID's. Native voters sued the state to stop the law from taking effect, but their case was dismissed.
In October, the Supreme Court upheld a lower-court decision in favor of the state's measure to require proof of residential address. The decision acknowledged the requirement "would discourage Native American voters" but held the overwhelming concern was voter fraud prevention.
During the 2016 election, members of the Paiute tribe were forced to sue the state of Nevada to prevent voter suppression. The Pyramid Lake Paiutes and the Walker River Paiutes argued that a lack of access to voter registration and polling places on the reservation, due to distance, hampered Native turnout.
It's the same story for many Native communities around the country come Election Day—which is exactly why Four Directions is targeting six states, like Wisconsin and North Dakota, to fight voter suppression and raise low Native voter turnout.
Saying sorry
Back inside the well-lit and architecturally stunning theater, I sat down to chat with Snuffy Main, forum panelist and tribal leader from the Gros Ventre Tribe of Montana.
"How do you feel the forum is going?" I asked.
"I think it's going good," he said. "We're used to a lot of promises and we're used to a lot of broken promises, and so far, the candidates have had some ideas on how to change that.
"The question I'll be asking each candidate is 'When will the U.S. truly reconcile with Native Americans through a standalone apology, instead of what the Obama administration did—burying a few words in a 20,000-word appropriations bill.'"
It wasn't so much an issue with what then-President Obama did that has many upset, it was what he didn't do—sign an executive order formally apologizing to all Native Americans for the destruction caused by American "exceptionalism."
"I think it's time we start healing," he continued. "It's time we start healing and a formal apology from the U.S. to us is long overdue and would be met with our forgiveness—I think we (Native Americans) have proven that by sending so many of our young people to war, to fight and die to protect this shared country."
I followed up asking about Sen. Elizabeth Warren's apology regarding her claim of Native American ancestry and the drama which ensued.
He said: "I thought Elizabeth Warren was good, she came out strong and had a lot of good answers. I don't think she needed to apologize for it unless she benefitted from it—which I don't think they've proven."
Main was clear in his perception that Warren and Sen. Bernie Sanders drew much of the audience support, with Sanders perhaps winning this public round.
A seat at the table
For Marlon White Eagle of the Ho-Chunk Nation, access to health care for Indigenous communities was as important—if not more—than some of the other issues discussed.
As a United States Marine Corps veteran, White Eagle has seen firsthand the impact of inadequate mental health care.
"This one hits home for me and it really hits home for families affected by the suicide of a loved one. It is not only a personal loss but a spiritual loss—we live here in the physical world and we know there is a spiritual world, too," he said "And the embodiment of that belief is important to Native families because suicide affects here, and there.
"We are only asking to have enough funding available for mental health care and overall health care. It seems we're always historically underfunded, and it's intertwined with the other 'lack of' issues we face daily."
Full acknowledgment of Native sovereignty, protection of Native land, a formal apology from the federal government, and a seat at the table to discuss policy and find solutions to issues affecting their people and communities—that's what tribal leaders want from the next president. Is it too much to ask?
"You know, it's funny to think," said Main, "if it wasn't for our people's kindness, the Europeans who landed here wouldn't have survived, and look at how they've thanked us…just think about it."
Maybe, just maybe, this first historic first step by Native voters and organizers will forever change future political trajectories, force presidential hopefuls to take the concerns of Native voters seriously, and give Iowa another reason—a better reason—for being first in the nation to pick a candidate.