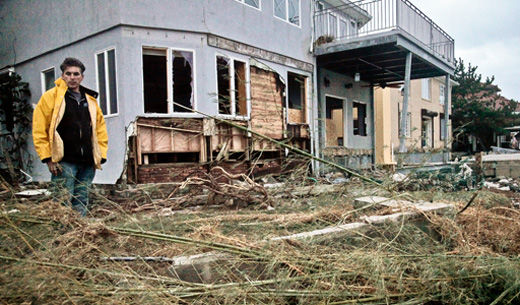 BROOKLYN, N.Y. — Anger is growing here as thousands in the New York area are told by their insurance companies that they're not covered for damages resulting from Hurricane Sandy.
Adding insult to injury, the insurance companies are apparently benefitting from the quick response to the crisis by the Obama administration with the Federal Emergency Management Agency inadvertently footing the bill for claims denied by the insurers.
Bobby McCann's brother Mike, who lives in the devastated Breezy Point neighborhood, was told by his insurance company that his storm insurance was no good because the damage to his house was caused by flooding, not by a hurricane or a tropical storm.
"My brother should be covered," said McCann last Friday night as he put down his quart container of beer at Farrell's Bar in Brooklyn's Park Slope. "The company says that because he don't have flood insurance he's s-t out of luck," McCann said, "but he had storm insurance and that should be all there is to it."
As many as a quarter million homeowners in flood-prone areas of the city of New York and Long Island may be in the same situation.
While the insurance companies have been denying claims since the storm hit, that's how many homeowners have applied for the emergency housing money that the Obama administration made quickly available. Unlike in the Bush administration response to Hurricane Katrina, where such aid was often delayed for months or didn't reach some areas at all, FEMA's emergency housing funds were available here just days after Sandy crashed on shore.
The purpose of FEMA's emergency housing money is to allow people whose homes are uninhabitable to temporarily rent new living quarters but because insurance companies are failing to pay damage claims, homeowners say they are using some of that FEMA money to pay for repairs.
The result is more and more people here expressing outrage at insurance companies they once saw as guarantors of their security in the event of a catastrophe and now see as greedy profiteers shirking their responsibilities.
When Mike McCann had returned to his Breezy Point home after the storm he said he was glad that he was, at least, better off than many of his neighbors. He was not among the hundred-plus families whose homes had either burned down completely or among those whose homes were otherwise totaled by Sandy. All Mike had to contend with was half of an entire wall that was missing and huge pieces of wood and other debris from outside that were now sitting inside his home.
McCann's policy covered wind damage and objects falling on the house but the insurer told him that the damage incurred at his place was not from wind, but from water and that the wood and other debris sitting in his house had not fallen on top of the house but had, instead, been forced through the wall by water. The adjuster said the determination was made based on how the wall had collapsed. The debris from outside, the adjuster said, could only have ended up inside the house as the result of having been pushed through the wall by floodwater.
Homeowner insurance policies, according to storm victims who have lost property, often cover damage caused by "falling objects." It is apparently up to insurance company investigators to decide whether an "object" that has damaged a house actually fell on top of the house or ended up inside the house as the result of some other process.
Allstate, the company famous for the refrain, "You're in good hands," is one of numerous companies that insured Sandy victims, including victims who say their claims have been denied. No one at Allstate would respond officially when asked to comment.
Chet Held, president of the International Brotherhood of Electrical Workers, Local 130, in New Orleans and a life-long fisherman on the Louisiana Bayou, said that the experience people in the Northeast are having with insurance companies is similar to what people experienced on the Gulf Coast after Hurricane Katrina.
"My home was under water up to the roof after the Hurricane," he said. "The adjuster told us that they would cover only the top 12 inches of the attic because the damage to the rest of the house was not from the hurricane or the wind, but from flood water."
"It was a shame, what happened," Held added. "Some people who had no insurance whatsoever actually did better when the government-funded Louisiana Recovery Authority came on the scene. They got more help from the state agency than people got from their insurance companies."
"I would never have thought they would do this to my brother," said Bobby McCann at Farrell's Bar as he picked up his container of Budweiser. "For 15 years Mikey paid his premiums every month thinking he was covered and his family was safe. There's not much you can do about the weather but how could a country allow an insurance company to get away with something like this?"
Photo: Carlo Popolano stands outside his home in Coney Island's Sea Gate community, after it was damaged in superstorm Sandy. Bebeto Matthews/AP