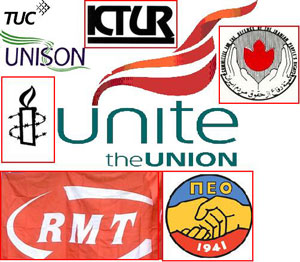 Before the ink dries on the documents confirming Hassan Rouhani as the new president of the Islamic Republic of Iran, representatives of trade union and human rights organizations are calling on him to demonstrate that his approach will break with the past by freeing all trade union leaders imprisoned in Iran and legalizing the work of independent trade unions in the country.
Rouhani's confirmation ceremony took place Sunday, August 4, and the Iranian regime was looking to use the opportunity to raise its profile in the international arena. For the first time in the life of the Islamic Republic, Iran invited leaders and dignitaries from across the world to attend its presidential inauguration ceremony as international guests. Activists are hoping that this welcome will be matched by an improvement in Iran's respect for its international obligations.
Noel Harris, general secretary of the British-based solidarity organization CODIR, highlighted the significance of the joint appeal, entitled: "Call for the opening of a new chapter in the treatment of trade unions in Iran." He welcomed the range of organizations which have signed on to the appeal and the widespread desire to keep the pressure on the Iranian government for its human rights violations.
"By signing this appeal, trade unionists are sending out internationally a clear signal to the Iranian government. That message is that action to tackle human rights abuses and the persecution of trade union activists is more vital than words and posturing," said Harris.
"The media have tried to emphasise the positives in Rouhani's election by highlighting his carefully-worded statements designed deliberately to hint at reformist intentions. Well, the proof of the pudding is in the eating. Until trade unionists and labour activists in Iran can operate in accordance with accepted International Labor Organization (ILO) conventions, we cannot accept that the regime has made any significant change."
Jane Green, national campaign organizer for CODIR added,
"Fear of arrest, intimidation and imprisonment is the everyday reality for trade unionists in Iran at present. All signatories to the appeal are united in their condemnation of the Islamic Republic's track record on the suppression of trade union activity and human rights in general. The appeal calls on the president-elect to end the repression of trade unions by immediately and unconditionally releasing those imprisoned for their trade union work, dropping charges against others currently facing trial for similar reasons and ending other repressive measures which marginalize trade unions and their members."
CODIR's call for action has brought together major UK trade unions including the Trades Union Council (TUC), UNITE, UNISON and the RMT, as well as the Pancyprian Labour Federation of Cyprus, Amnesty International and the International Centre for Trade Union Rights (ICTUR).
Photo: CODIR