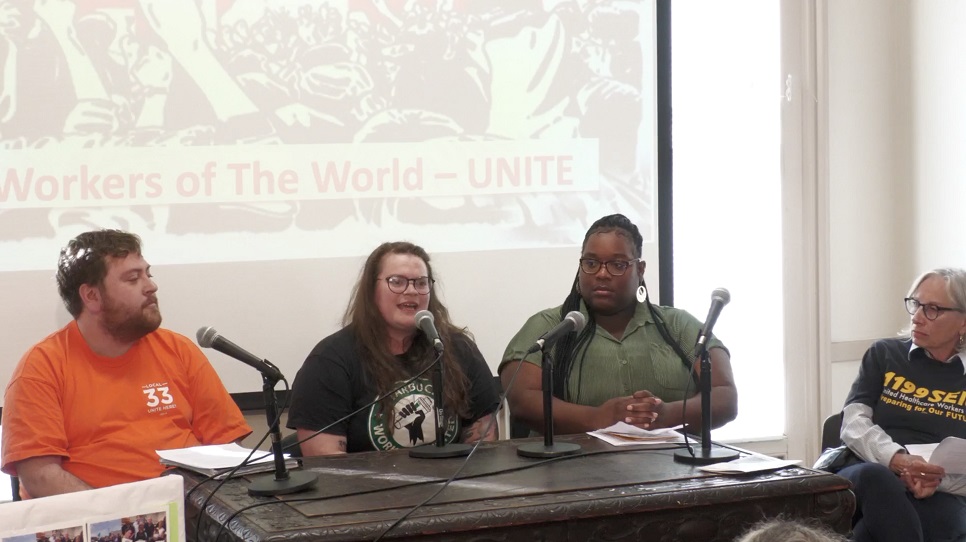 NEW HAVEN, Conn.—As images of recent workers' gains, struggles, and actions projected onto the screen and the sounds of labor music ranged outside of the New Haven Peoples Center on to the street, everyone who entered felt an inviting atmosphere of labor solidarity for the People's World May Day rally: "International Workers Day 2023 – Organize Now for a Just and Peaceful Future."
Emcee Jahmal Henderson, a food service worker, welcomed everyone to this celebration of courageous organizing being led by young workers, women of color, immigrant workers, and low-wage workers for basic rights and survival against corporate greed.
A powerful slide show "May Day Around the World" highlighted struggles and victories across continents in today's times, showing working class solidarity for wages, benefits, public education, affordable housing, and peace against the extreme right-wing corporate agenda.
A roundtable discussion explored the organizing experiences of three unions in Connecticut. It featured Paul Seltzer, Local 33 Unite Here; Jordie Adams, Starbucks Workers United; and Symone Destin, SEIU 1199 NE. The event was moderated by Pearl Granat, lifelong activist for social justice and retired 1199 organizer.
Jordie Adams, a Starbucks barista, spoke of helping organize a union at her store in Vernon, Conn., and in other stores. She also proudly announced that, just the prior week, the 300th Starbucks store was organized by Starbucks Workers United. There are now unionized stores in 41 states plus D.C.
Adams was one of dozens of Starbucks workers who traveled to the nation's capital to attend the Senate hearing called by Sen. Bernie Sanders, chair of the Health, Education, Labor, and Pensions Committee, which questioned former Starbucks CEO Howard Schultz about union busting.
"Howard Schultz said the average pay is $17 an hour, which is not true. That number includes supervisors pay," said Adams. "It was interesting to listen to him lie in front of the Senate."
Schultz attempted to send a PR person in his place, but Sanders would not agree. To keep the pressure on, Adams and others told their own senators about firings of organizers and other illegal practices happening in their states.
Paul Seltzer, a leader of Local 33 Unite Here and graduate teacher in the history department at Yale, spoke about their blowout union election, with 91% yes votes, gaining recognition from Yale after over 30 years of organizing. They are now negotiating a first contract.
"Graduate workers needed a seat at the table and a say in our work," said Seltzer. "Our work is essential for the university to carry out its mission for teaching and research."
During the pandemic, required work hours for Seltzer and all grad teachers skyrocketed with no discussion. But for his wife, a member of Local 34, the clerical and technical workers union at Yale, it was different.  "With the union, workers had a voice to negotiate with the university for higher standards and benefits."
Seltzer came to Yale in 2017 from Atlanta, where he was a food service worker at the airport and helped organize a union. "We got our first raise, health care costs plummeted, and we won workers' rights on the job." This inspired him to stay in the fight for union rights in the workplace.
Local 33 restarted their union campaign in 2021. "We talked to thousands of co-workers and expanded the organizing committee," he said. "In fall of 2022, thousands of union cards were signed and after a rally of over 1,000 people Yale agreed to respect the results of a graduate worker union election."
Simone Destin is an 1199 member and a six-year group home worker assisting people with disabilities. She is currently involved in a contract fight for better working conditions and pensions, better health care for all group home workers, and better rights for the disabled community she serves.
While working during the pandemic, Destin got COVID twice and ended up with a $10,000 hospital bill. From this experience, she became determined to stay in the fight for funding in the state budget "for living wages and benefits and to be recognized for the things we are doing to help the people we serve.
"People are struggling daily to make ends meet," she said. "We are fighting for livable wages. You can't live off $17 an hour if you have to pay $2,000 rent, electric bill, groceries.
"Connecticut is one of the wealthiest states," said Destin. "There are 12 billionaires in Connecticut.  And people are struggling daily to make ends meet. It doesn't make any sense to be so stingy and selfish with our taxpayer dollars."
She urged everyone to bring a crowd to the state capitol on Wednesday, May 17, for the Recovery for All "Equity Can't Wait" rally for a moral budget. The budget battle underway will determine funding for vital services and for raising poverty wages of workers like Destin.
Despite a surplus, a full rainy-day fund, and the potential to tax the rich, the governor and legislature say the spending cap limits what can be included in the budget. But the Recovery for All coalition of 70 organizations is demanding alternatives like an equity revenue intercept, saying "the spending cap is not an excuse to leave our communities suffering."
When Granat asked the panelists "What do you all have in common?" each stressed their common working-class interests and the need for solidarity to overcome fear and keep up the fight.
"We all want to be seen and heard. We all want change not just for ourselves but for everyone else, for our communities," said Destin, telling Adams and Seltzer, "You have both been doing an amazing job.
"In 1199, some workers believe we won't win, and they don't want to fight," said Destin. "We remind them that we deserve more than what we are getting and we're fighting with you every single day.
1199 cares about our members and the people we serve. We will win."
"We all have to get up every day and make the choice to keep fighting," said Seltzer. "We do it because we know we deserve more. All our campaigns have had to link up with other unions and other groups.  Local 33 won because we had support from Unite Here Locals 34, 35, 217, and other groups. We had a shared analysis about how to build power together and then take action together."
Adams agreed. "We have to unite store by store, there are 9,000 Starbucks stores in the U.S. It' s exhausting, but we care about what we're doing and it's worth the fight. The struggle is real and we are moving forward."
A citation from the New Haven Board of Alders was presented to each of the unions.
The evening closed with distribution of the Connecticut Communist Party's program on the housing crisis and an invitation to join. A tribute to Harry Belafonte included videos from his trip to Cuba to receive the Friendship Medal in 2020 and a performance of the banana boat song in Japan.
During the program donations were collected for the People's World 2023 fund drive.
Video of the full event can be viewed on Facebook here.
We hope you appreciated this article. At 

People's World

, we believe news and information should be free and accessible to all, but we need your help. Our journalism is free of corporate influence and paywalls because we are totally reader-supported. Only you, our readers and supporters, make this possible. If you enjoy reading 

People's World

 and the stories we bring you, please 

support our work by donating or becoming a monthly sustainer today

. Thank you!