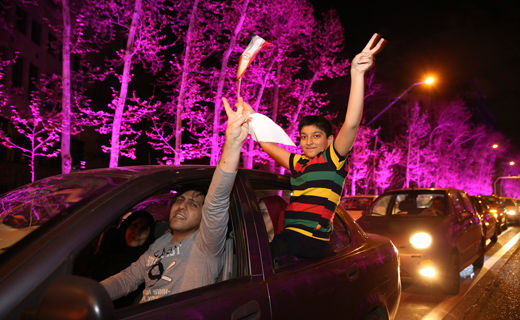 The deal reached by Iran and six world powers guaranteeing reduction of Iran's nuclear energy program and channeling of that program into peaceful uses is welcomed by the forces of sanity around the world.
President Obama, and the other world leaders backing the deal, recognize that a stable Iran able to participate in world affairs can only be a good thing. The bombs-away crowd in the Republican Congress and the Netanyahu government in Israel, of course, prefer conflict and tension on the world scene. As always such conflict and tension serves to divert attention away from domestic concerns.
The forces for sanity, however, have prevailed with this preliminary agreement. Iran is a huge country with a large and productive working class, developed industry and a long and rich cultural heritage. They have much that is good to offer the world. Its people are celebrating this agreement because they want to join the rest of the world and free themselves from crippling sanctions that, in the long run, hurt everyone. Bringing Iran into the international arena will benefit not just the Iranians but the people of the entire planet.
Those opposing the agreement, we must remember, have always been for increasing tension and endangering the world. Back in the 1950's they were the ones who backed the overthrow of the progressive Mossadeq government in Iran and since then they have never forgiven that country for nationalizing its oil industry. The bombs away crowd then backed the despotic regime established by the Shah, helping create the desperation in Iran that fueled right-wing Islamic fundamentalism.
Happily, we have a U.S. president today who sees the need for diplomacy to curb those nuclear weapons. The result is that for the first time in many decades Iran is talking to the United States. While this does not solve all the problems, or clear up all the "sins" of either Iran or the United States for that matter, it is a much-desired step in the right direction. The alternative, more war in the Mideast that could spread around the world, is unthinkable.
Photo: Iranians celebrate over the nuclear agreement. | AP