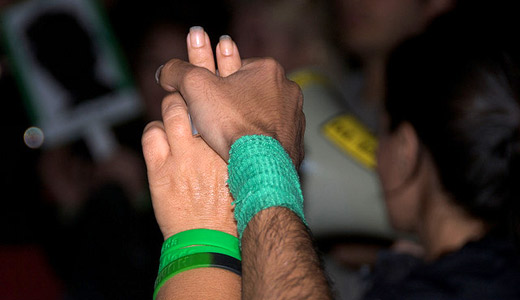 The UK-based Committee for the Defence of the Iranian People's Rights (CODIR) says the Islamic Republic's political prisoners are hostages held to terrorize the nation.
In a June 2 statement, CODIR pledged its full support for campaigns launched by Iranian political prisoners and their supporters to secure the immediate release of all political prisoners in Iran. CODIR called on trade unions and human rights organizations internationally to give their full backing to the campaigns by expressing solidarity with the victims of the Iranian regime's reign of terror and demanding an immediate end to the detention of all those held on political grounds.
The arrest and imprisonment of trade unionists, women, students and political and human rights activists is commonplace in Iran. Their cruel abuse in captivity has been used as a tool by the Iranian theocratic regime for repressing the people. The regime's level of brutality in its treatment of political prisoners has always been a measure of the strength of the peoples' opposition.
The detention of two prominent members of the Iranian Writers' Association, Dr. Fariborz Raisdana and Ms. Manijeh Najm-Araaghi, are the most recent examples of such abuse.
The Iranian Writers' Association has been consistently critical of the regime's censorship and violation of the freedom of expression.
Following his speech criticising the government's decision in November 2010 to remove subsidies from most basic goods and services, Dr. Raisdana, a left-leaning economist and social and political activist, who had been detained and imprisoned several times previously, was first detained in relation to this matter in late 2011. Following payment of bail, he was released after a month but, on May 20, 2012, was rearrested and sentenced to a year's imprisonment.
Praised by the World Bank and the IMF and hailed as the cornerstone of the Ahmadinejad government's economic policy, the removal of subsidies, which Dr. Raisdana was criticizing, has devastated the Iranian economy and national production.
In support of and in solidarity with Dr. Raisdana, a large number of Iranian social and political activists have signed a letter to the United Nations High Commissioner for Human Rights requesting the unconditional release of all political prisoners in Iran. Their letter states:
"We condemn the Islamic Republic's dictatorial actions and request that all international human rights organisations, especially the United Nations High Commissioner for Human Rights, take resolute action to demand the freedom of all political prisoners in Iran."
On May 27 this year, Manijeh Najm Eragi, a writer, translator, women's rights activist, and the secretary of the Iranian Writers' Association, was transferred from court to Tehran's notorious Evin Prison. Charged with "propaganda against the regime," she had been convicted and sentenced to a year in prison.
Included in accusations against her was her attendance at ceremonies commemorating the lives of Mohammad Mokhtari, Mohammad Ja'afar Poyandeh and the accomplished poet Ahmad Shamlu, all of whom had been brutally murdered by the regime. Mohammad Mokhtari and Mohammad Ja'afar Poyandeh were prominent members of the Iranian Writers' Association. In opposition to Ms, Najm Eragi's detention, more than 400 women's rights activists, writers and political and social activists signed a statement demanding her immediate and unconditional release.
In another initiative, four political prisoners from Rajaei Shahr Prison sent a letter on May 1 to Chief Prosecutor Mohsen Ejeehi, warning him of intensifying pressure on political prisoners during the past 18 months. In their letter, Massoud Bastani, Rasoul Bedagi, Keyvan Samimi and Heshmatolah Tabarzadi stated that, "according to the prison infirmary, prohibition of daily telephone calls to our families has caused an increase in the use of anti-depressants."
They highlighted the fate of a fellow prisoner. "Mansour Radpour's death from a stroke," they said, "was a predictable tragedy concerning which his family and cellmates had warned the prison authorities repeatedly." Radpour, who was held in the Special Security Section of Rajaeih Shar Prison, had been a strong wrestler and capable head-chef for the political section of the prison.

In another signed statement, more than 350 women's rights, human rights and social and political activists have protested against the detention of Ms. Narges Mohammadi and demanded her release.
According to the statement:
"On Sunday 23rd April 2012, Narges Mohammadi, a human rights activist and Vice-President of the Centre for Supporters of Human Rights, was transferred to the Evin Prison to begin her six-year sentence.
"The unjust ruling against this brave woman, a human rights supporter, was based on unfounded accusations of unlawful assembly and conspiracy to act against national security; membership of the Human Rights Supporters' Centre and propaganda against the regime. She was unlawfully arrested and detained and, in an undisclosed and unjust court, was sentenced to six years of prison."
Photo: Steve Rhodes // CC 2.0