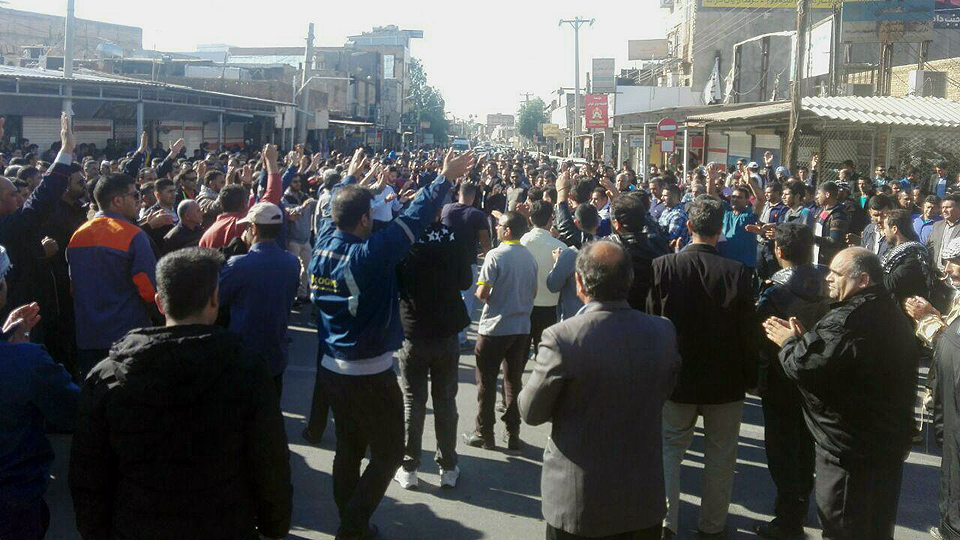 Iranian communists have called for international solidarity following the arrest and torture of leading trade unionists as strike action spreads across the province of Khuzestan.
Tudeh Party international secretary Navid Shomali said that the clerical regime is in a fragile position and that support for striking workers in Iran was vital.
Workers at the Iranian National Steel plant in Ahvaz have held a number of strikes this year in a dispute over unpaid wages demanding the factory, which has suffered under a succession of private owners, returns to public ownership.
They have joined together with workers at the Haft Tappeh sugarcane factory near the city of Shush who have been on strike for more than a month over unpaid wages and allegations of corruption by managers.
The wave of strike action across Iran, which has also hit the Abadan oil refinery, the Ahvaz Metro project, and municipal workers in Hamidiyeh, has been dismissed as the work of foreign enemies trying to destroy the country's economy by Supreme Leader Ayatollah Ali Khamenei.
But workers have described Iran as "the house of thieves, unique in the whole world" and hit back against the claims of the Ayatollah, saying "our enemy is right here. They lie saying it is America."
After a demonstration of about 4,000 Haft Tappeh sugar cane workers last month was attacked by security services, 18 strike leaders were arrested and taken to prison. Authorities released 14 of them, but Esmail Bakhshi, Mohamad Khanifar, Moslem Armand, Hosein Fazel, and student activist Sepideh Gholian remain in prison and are believed to have been tortured.
The Union of Metalworkers & Mechanics of Iran has demanded an end to their torture and their immediate and unconditional release.
"The responsibility for their suffering lies directly with the Iranian state. We are deeply and increasingly concerned about their lives.
"We call on workers across Iran and around the world to campaign for the release of all those arrested," it said.
Mr. Shomali told the Star that the cane workers' action was a major advance for the trade union movement in Iran, with some of their demands being met by factory bosses.
"The end of the strike does not mean the end of the struggle," he said. "The protests, anger, and the will of the workers to realise their demands will remain. The self-confidence and high morale and class consciousness of the workers will not be lost at the end of this stage of the strike."
IndustriALL assistant general secretary Kemal Özkan said:
"This attempt to break the strike through violence and intimidation brings great shame on the Iranian regime. Workers are striking for the wages they have earned, and their leaders bravely suffer torture to defend them.
"Iran must respect trade unions rights and core ILO Conventions, in particular 87 and 98.  Trade unionists must be able to do their jobs without intimidation and harassment, and have the right to establish independent unions."