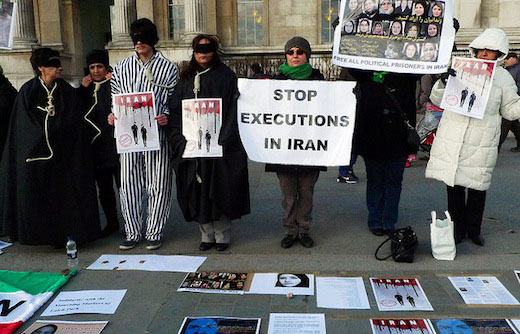 Before the ink is even dry on the confirmation of Hassan Rouhani as the new president of Iran, the Islamic Republic continues to carry out barbaric and meaningless executions.
In a joint letter to the people of the world, the mothers of four Arab minority youths, inmates in Shadegan prison on death row, have requested that the people of the world do all they can to force the Iranian government to stop the execution of their sons. The following are excerpts from their letter:
"After four years of crying, last week we received news of the death warrants confirmed for our young sons: Ghazi Abasi, born in 1982; Abdolreza Amir Khanav, born in 1987; Abdolamir Majdami, born in 1980; and Jasem Mogaddam Payam, born in 1985. They were charged as "combatant" and "corrupt on earth," and received the death sentence.
"From the time of their arrest until the day of their formal court hearing, without any knowledge of their location, our sons have suffered severe physical and psychological torture at the Ahwaz Security Office. They were forced to admit to fabricated charges, written in a language different from their own.
"With this letter, we request the urgent assistance of all men and women in the world, to prevent the execution of our sons. We are grateful for your assistance."
Jamshid Ahmadi, assistant general Secretary of the British-based solidarity organization CODIR, Committee for Defence of the Iranian People's Rights, condemned the regime's decision to go ahead with these executions, stating:
"By threatening to execute these four innocent young people the Iranian regime is sending the wrong signal both to the Iranian people and to world public opinion. This comes just 10 days before the inauguration of the new president, Rouhani. Iran holds the world record for the number of executions taking place in the country. The new president should add Iran to the list of countries where the death penalty is abolished."
Photo: Vigil in Trafalgar Square, London, against human rights violations and political executions in Iran. helen.2006 CC 2.0