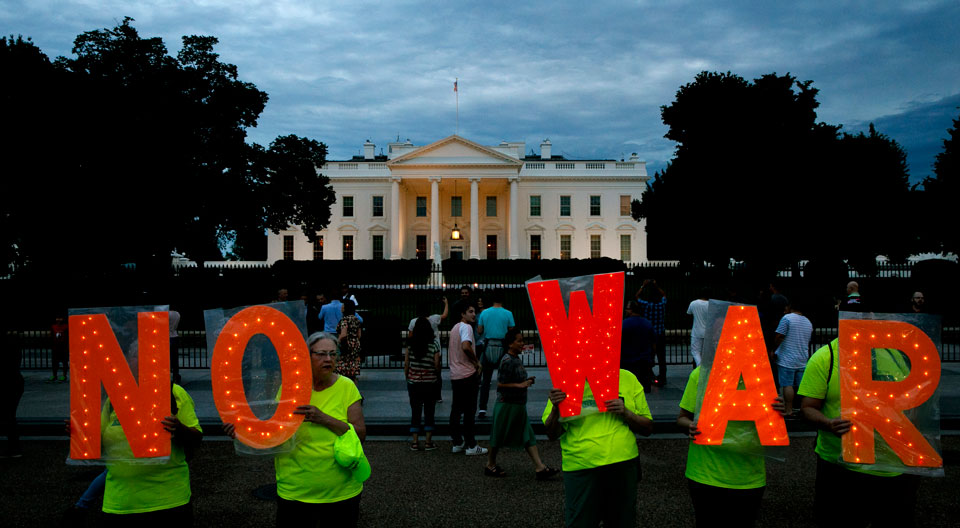 CHICAGO—Iranian workers fight a combination of autocracy, massive deindustrialization, joblessness, currency devaluation, and a huge slump in pay, a speaker from the country's Tudeh (Communist) Party said yesterday at the 31st national convention here of the Communist Party USA.
If U.S. President Donald Trump moves from saber-rattling against Iran to actual war, loyalists to the government—such as the Revolutionary Guards "and people who get monthly payments"—would come to its support, Mostafa Hammati says.
The rest of Iran, while opposing the government, would nevertheless like the U.S. to keep hands off the country, however.
"The Iranian people should be left alone to oppose the government on their own terms," Hammati told People's World after bringing Tudeh's fraternal greetings to the U.S. Communist Party's convention in Chicago. That includes massive opposition from teachers, students, workers, and women.
If Trump pulls the trigger, "the government might bring their base to bear, but there won't be any popular movement to join it," Hammati added.
"But if the (U.S.) peace movement can stop what Trump is trying to do, the popular uprising will materialize" against the theocratic Iranian government, he predicted. "So opposition to the war in the U.S. is extremely important."
Organized groups, including his party, are another matter, said Hammati, while strongly emphasizing he is not Tudeh's official spokesperson or its international affairs secretary.
"It's kind of difficult to say what the (Tudeh) party would do" if Trump sent troops and planes to try to force regime change on the Islamic Republic, as his bellicose and war-mongering National Security Advisor, John Bolton, stridently advocates. Trump came close to doing so the weekend of June 14-15, but pulled back at the last minute, literally, news reports say.
Tudeh is one of dozens of parties which often must operate underground in Iran. Its last convention was six years ago. Its communications are by other websites and social media, including its online newspaper, Nameh Mardom.
Right now, Hammati says, Iran features strong movements of students, teachers, women, and workers. All lead campaigns against the government's policies, particularly its "privatization," which in many cases has robbed the people of their pay and pensions.
That privatization is not in response to Trump's sanctions, imposed after he trashed the agreement Iran signed, during the Democratic Obama administration, to stop developing enriched uranium and other elements of an atomic bomb. Iran has hewed to the agreement, as have the European nations which also hammered it out. They dropped their European sanctions against Iran.
Instead, the Iranian government's privatization of key industries responds to pressure brought by the International Monetary Fund and the World Bank. The U.S. dominates both international financial institutions, however, usually on behalf of its own "neoliberal" economic policies. Those policies are often designed to benefit multinational corporations in the nation involved while harming workers. That's what happened in Iran, too.
The problems facing Iran's 82 million people, Hammati said, come from "extreme austerity measures" the IMF and World Bank imposed and a theocratic government that lost much popular support.
"Imagine having low wages," which fell from an average of $600 per month before the "austerity measures" to $100 per month now, Hammati says. "The government says there's 12% unemployment," but statistics are suspect. "If you work for one week, you're counted as employed for the month," he adds—just like in the U.S.
Meanwhile, thousands of factories have closed, workers have been priced out of cities such as Tehran, and real joblessness in some industries, such as auto parts, is higher than reported. And "targeted subsidies" for fuel, water, rice, and other basics were eliminated a decade ago.
Trump threatened to pull the trigger and start a full-scale conflict with Iran three days before the convention opened and four days before Hammati brought Tudeh's greetings to the U.S Communists.
"The imperialist powers in the U.S.-led NATO bloc are increasing their aggressive actions and drive to war around the world, from Latin America to the Middle East and the Far East," Tudeh's statement to the CPUSA read in part.
"We wish you the best in your struggle to build a successful challenge to the populist right-wing forces governing the U.S., for peace and demilitarization at home and abroad, for social justice, for the preservation of the environment in the interests of the working people of the U.S. and for socialism."  The 300 convention delegates and guests spent much of their three-day conclave in Chicago discussing how to carry out that struggle.
The U.S. should also support the Iranian people's opposition to government-ordered "privatization" and to rampant government corruption. "They kind of cover it up here," Hammati said of the U.S. "They don't see any reason to cover it up there."
The corruption, falling pay, unemployment, and the closure of thousands of factories prompted mass protests in ten Iranian cities 18 months ago.
Iran also harasses union leaders and tried to co-opt its unions, Hammati says. Leaders are "constantly called in leaders for questioning," even as the country's Labor Minister told international bodies the nation abided by world standards. "The government's major worry is that workers could be acting on a large scale," Hammati explained.
Iran's workers also face pervasive job insecurity, Hammati says. Some 95% of the workforce, he calculates, works for subcontractors, and often there are three layers of subcontractors between the main employer and the worker. That's another impact of Western-forced neoliberal economics, he says.
So are so-called "white contracts"—pacts firms force workers to sign in advance with key provisions, such as pay rates, left blank. "In the U.S., there's one subcontractor for every 1,000 workers," Hammati estimates. "In France, it's one for every 650. In Iran, it's one for every 37."
"When a contractor leaves, the workers don't get paid—often for four or five months at a time. And the government takes no initiative" to solve the problem. "The most corrupt dependence is in the system."