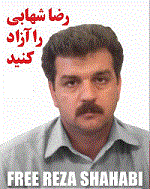 The following letter was distributed by Reza Shahabi's Defense Committee:
To all my fellow workers, participating in the International Labor Organization's annual conference: My name is Reza Shahabi. I'm a board member of Tehran Bus Workers' Syndicate and its secretary treasurer. Due to my trade union activities, I was arrested and incarcerated on June 12, 2010. I was brutally attacked and beaten during my arrest, and severely afflicted, physically and psychologically.
Subsequently, I spent 11 months in solitary confinement, without my family having any information about my whereabouts during that entire period of time. Finally I've been sentenced to six years of imprisonment, banned for five years from any trade union activities and a fine of 7,000,000 Tomans (approximately $4,000). Because of all the beatings and physical and psychological abuses I have endured, I'm suffering from severe back and neck pain, and the left side of my body is practically paralyzed. Currently I am in hospital waiting for an operation.
Have I done anything outside the accepted protocols and conventions of ILO?
The query I have from you, my dear fellows participating in ILO's annual conference [May 30-June 14 in Geneva, Switzerland], is that: what role shall ILO and workers' representatives participating in its conference perform under such circumstances?
The only time we are of any significance to capitalist systems is when we're producing goods and services for them, and contribute to their interests. Otherwise, we get incarcerated, like myself, and all benefits and protections for our families are cut off, so as to force us to give in to their demands.
What crime have I committed to be incarcerated for six years and banned from any trade union activity for five years? Are demands for wage increase and benefits according to international standards and cost of living adjustments a crime? Is collecting membership dues from members in our syndicate a crime? Is asking for implementation of laws protecting workers from hazardous work environment a crime?
Is demanding job classifications illegal? Is asking for equality between women and men, and abolition of child labor a criminal act? Is compliance with health and safety codes and educating others in labor relations a crime? Is aspiring to have a dignified honorable human life compatible with international norms and standards illegal?
Is going to Labor Ministry and attempting to resolve labor issues through dispute settlement panels and in Court of Administrative Justice as a representative of workers, and defending their rights, deemed illegal?
Is creation of an independent, autonomous workers' organization considered a crime?
The query I have for all of those participating in this annual conference of ILO, is this: Have you asked this body and the representative of the Iranian government,"Based on what charges have workers and labor activists, such as myself or Messrs, Ali Nejati, Behnam Ebrahimzadeh, Rasol Bodaghi, Mehdi Farahi Shandiz, Shahrokh Zamani, Mohammad Jarahi, Alireza Akhavan, [or] Fariborz Raisdana have been arrested and incarcerated?"
And what role shall ILO and the workers' representatives at the International Labor Conference perform in such circumstances?
In the end, I would like to thank all workers and labor activists in Iran, France, and worldwide, who have been actively supporting us and working towards my freedom and freedom of all other incarcerated workers in Iran.
Reza Shahabi is a board member and secretary treasurer of the Syndicate of Workers of Tehran and Suburbs Vahed Bus Company. On June 4, 2012, he was hospitalized at Imam Khomeini Hospital-Tehran.
Photo: CODIR