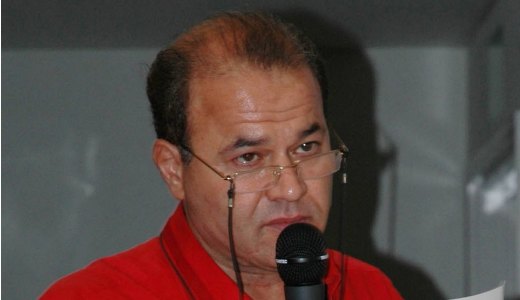 TEHRAN, Iran – Mansour Osanloo, the leader of the independent bus drivers union in Tehran, Iran, was released on bond from Iranian prisons on or around June 1, the International Transport Workers Federation reported.
Freedom for Osanloo, now 50 and ailing due to mistreatment in the prisons, was a top international cause for the ITF and for the Amalgamated Transit Union in the U.S. Former ATU President Warren George demanded Osanloo's release in repeated letters to Iranian officials and in communications with the U.S. government.
Osanloo was pulled off a bus and arrested in Tehran in mid-2007 and taken to that nation's Evin prison. After a reported heart attack in early February of this year, months after Iranian President Mahmoud Ahmedinejad promised ITF that Osanloo would be released, the union leader was transferred to another prison.
His release, conditioned on the bond and "good behavior," still leaves several other top leaders of the Syndicate of Workers of Tehran and Suburbs Bus Company (Sherkat-e Vahed), in prison, the ITF reported.
Osanloo, in one of the few messages he could smuggle out of prison during his years there, said his only "crime" was to keep the union independent of Iranian control. Iran's government pressured union leaders to turn over their union to the state.
ITF General Secretary David Cockroft called Osanloo's release "a great day for Mansour and his family – and for his fellow Vahed union members and those of us in the international trade union movement who are honored to call him a friend. It's doubly welcome given the deterioration in his health during his time behind bars. He is free because trade unionists worldwide demanded justice."
"But – and sadly, even on a day as good as this one, there has to be a 'but' – there are other innocents in jail in Iran for the same 'crime' of wanting to join a trade union. They include Mansour's colleagues, Reza Shahabi and Ebrahim Madadi," Cockroft said. Shahabi is the bus drivers' secretary.
Conditions in the Iranian prisons were so bad that Shahabi, while in Tehran's notorious Evin prison, staged a brief hunger strike last December. That brought Amnesty International into the case on the bus drivers' union's side.
"For all of them, and us, the fight is not over. We renew our insistence that those other prisoners are set free and the threat of re-arrest lifted from Mansour, and then commit the ITF, our member unions and friends in the trade union and human rights movements to campaigning on their behalf," Cockroft concluded.
Photo courtesy Paul S. Graham website.