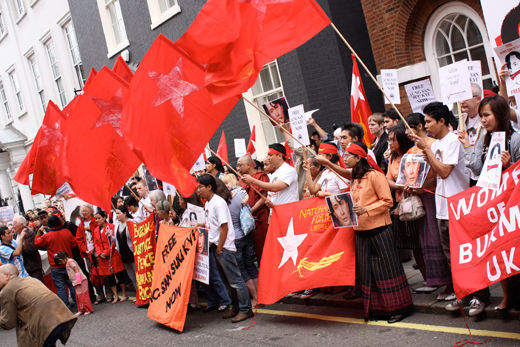 So far 2011 is proving to be an eventful year for Myanmar, formerly known as and still generally called Burma. Despite the slight easing of restraints put on Aung San Suu Kyi, there is widespread distrust of the country's rulers and their version of reality.
This distrust was exemplified by the junta controlled media reports after the 7.0 magnitude earthquake struck Shan State in northeast Burma on March 24, minimizing the number of dead.
Now the U.S. is sending a new envoy to Myanmar: Derek Mitchell, a Deputy Assistant Secretary of Defense for Asian and Pacific affairs. It is an open question: What will be his role in Burma?
The generally under-reported fact is that over the past 20 years of military dictatorship in Myanmar, the government's repressive leaders have had a close relationship with U.S. and European oil, gasoline and gem corporations. These capitalist enterprises reap billions in profits from Burma, prop up the military junta, and leave most of the country underdeveloped, with few freedoms and a permanent state of poverty.
As a result, one third of Burmese children are malnourished according to the World Food Program.
The primary western companies benefiting from a relationship with the junta ruling Burma are Chevron and France-based Total, as well as Norway state investment gas and oil ventures in a pipeline running from Burma into China, a project that has been marked by numerous allegations of human rights abuses.
Coupled with these capitalist ventures is heavy western trade in the lucrative gems market. Burma is said to have 90 percent of the world's rubies, and large deposits of jade and blue sapphire. These resources are worth billions of dollars, and, like the gas deposits, go to prop up the junta and enrich private interests rather then do anything to lift the nation, out of poverty.
It would seem that the revenue from these resources would be better spent for building schools, roads and hospitals for the benefit of the people of Burma, now numbering over 54 million, in one of the poorest countries in the world.
What direction will Derek Mitchell, the new U.S. envoy, encourage Myanmar to take? Only time will tell, but the operations of Chevron in other countries besides Burma is possibly an ominous sign of events to come. Particularly the devastation that Chevron has caused in Ecuador does not bode well.
Some references to learn more: Earth Rights International focusing on human rights and environmental abuse in Myanmar and across the world at http://www.earthrights.org, news covering Myanmar and Southeast Asia at http://www.irrawaddy.org/, news concerning human rights issues in Myanmar at http://burmadigest.info and Urge Chevron to Clean Up its Oil Spill in the Amazon.
Photo: Burmese expatriates in London call for democracy in Myanmar (by English PEN/cc by 2.0/Flickr)