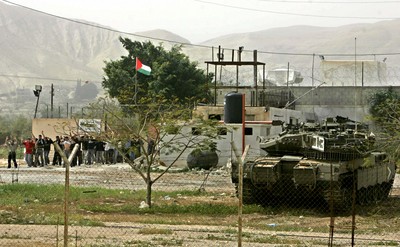 Israeli troops using tanks, helicopters and bulldozers pounded a Palestinian-run prison in the West Bank town of Jericho March 14 to seize Ahmed Saadat, leader of the Popular Front for the Liberation of Palestine, and five others amid rumors that they might soon be released by the Palestinian Authority.
At least three Palestinians were killed in the Israeli action.
The dramatic 10-hour armed siege ignited protests across the Occupied Territories. Angry Palestinians, having heard that U.S. and British monitors abandoned the jail 20 minutes before the Israeli assault, attacked offices linked to the U.S. and Europe, burning cars and torching the British Council building in Gaza City, The Associated Press reported.
The Israeli assault on the jail came amid a wider deterioration of relations between Israel and the Palestinians since Hamas' victory at the polls.
Saadat, 52, is general secretary of the PFLP, and was elected to the Palestinian Legislative Council in January. Arrested by Palestinian security services in 2002 at the insistence of Israel, he been detained by the Palestinian Authority ever since.
Israel alleges Saadat is responsible for the shooting death of Israeli Tourism Minister Rehavam Seevi in October 2001, although Saadat was never charged with the crime nor brought to trial.
In June 2003 the Palestinian High Court of Justice, citing a lack of evidence, ordered Saadat's immediate release, but the PA declined to do so, saying it could not safeguard his security.
Palestinian leaders and activists denounced the Israeli assault on the prison as a violation of international law and demanded that no harm come to Saadat or the others seized.