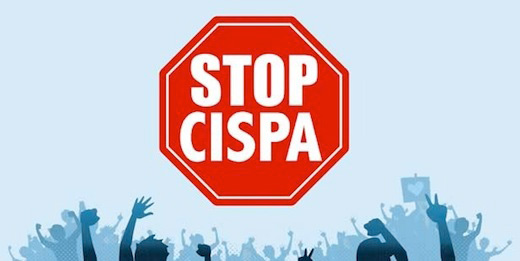 The Cyber Intelligence Sharing and Protection Act, also known as CIPSA, would allow corporations to share your online data with the government in real time. Is anyone else experiencing déjà vu with CISPA? If you have been paying attention to privacy laws, you may have noticed CISPA back in 2011 when it was first introduced by Rep. Mike Rogers, R-Mich., and 111 co-sponsors. Rep. Dutch Ruppersberger, D-Md., and Rogers re-introduced the bill in February, after it failed to pass Congress last year.
CISPA has been met with strong opposition from online privacy advocates and companies. In response, 30,000-plus websites, including Reddit and Craig's List, are part of a week of action this week. Tim Berners-Lee, the inventor of the World Wide Web, opposes the bill saying CISPA threatens "the rights of people in America, and effectively rights everywhere, because what happens in America tends to affect people all over the world."
Berners-Lee then refers to the massive online campaigns last year that stopped Congress from passing SOPA (Stop Online Privacy Act) and PIPA (Preventing Real Online Threats to Economic Creativity and Theft of Intellectual Property Act). At the time, President Barack Obama expressed opposition to the bill saying that if passed he would veto it.
"Even though the SOPA and PIPA acts were stopped by huge public outcry, it's staggering how quickly the U.S. government has come back with a new, different, threat to the rights of its citizens," he said.
CISPA isn't just coming out of the blue, but is partially a response to a series of cyber attacks on U.S. government and U.S.-based corporate networks, allegedly by China. In its annual report to Congress, the U.S.-China Economic and Security Review Commission charged, "China is targeting U.S. government and commercial computers."
The Chinese government has denied responsibility for the cyber attacks. Foreign Ministry spokesman Qin Gang said, "Some people outside of China are bent on fabricating lies of so-called Chinese computer spies."
Qin went on to say that some governments have a "Cold War" attitude towards China.
Whoever is behind the cyber attacks has the ability to hack the search engine giant Google.
The bill does have supporters, like AT&T, Facebook and Verizon to name a few. These cyber attacks have compromised millions of users' data, but for the most part they haven't been the main targets. The cyber attacks have been targeting business and trade data of the companies.
Many who oppose CISPA say something needs to be done to make the Internet a more secure and safe place, but sacrificing the online privacy of American citizens will not provide a viable solution.