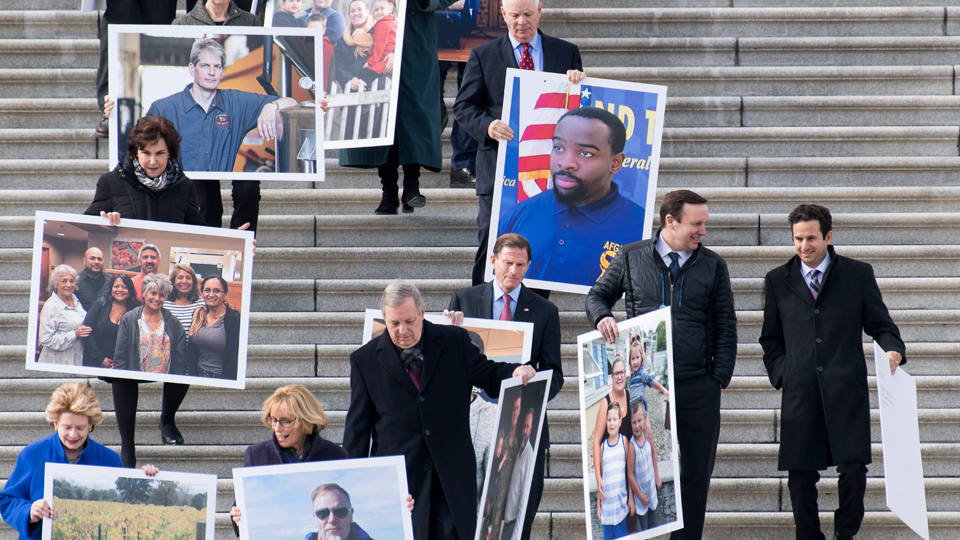 WASHINGTON—It's not just the 800,000 federal workers and their families who are getting financially hurt by GOP President Donald Trump's partial lockout/shutdown of the federal government, it's contract workers – cleaners, security guards, cafeteria workers – from coast to coast.
Four million of them, one worker told three senators who convened a Jan. 16 session to hear from a group of contract workers.
"We don't want this to get worse than it already is. A lot of people live paycheck to paycheck and no one's helping them," said contract worker Dontae Brown.
The contract workers, some of them represented by Service Employees Local 32BJ, the union sector that represents cleaners and janitors, brought their stories to Sens. Chris Van Hollen and Ben Cardin, both D-Md., and Tina Smith, DFL-Minn., as Trump's shutdown/lockout hit its 27th day and as the impact continues to grow.
Trump proudly locked out some 350,000 federal workers while another 450,000 – such as air traffic controllers, IRS workers and airport screeners — are toiling without pay. Federal employee unions are suing, so far unsuccessfully, in federal court to end his lockout/shutdown and force him to pay the workers.
But those suits don't cover the contract workers, many of whom past GOP regimes "privatized" as part of the party's anti-government agenda. Trump's lockout started at midnight Dec. 21. He says he won't end it until Congress kowtows and OKs $5.7 billion for his Mexican Wall.
Smith pointed out that most of the contract workers, like most federal workers, live and work outside the D.C. metro area. Some 85 percent of federal workers live elsewhere in the U.S. The only reason the contract workers who met the three solons were from the D.C. area is because they were easily able to get to Capitol Hill.
Meanwhile, leaders and members of the largest government workers union, the Government Employees (AFGE), rallied again on Jan. 17 in D.C. to demand the Senate's ruling Republicans stay in town and do their jobs – pass money bills to reopen the shut agencies.
And Actors Equity reported that stage actors, backstage workers, and others employed in the performing arts nationwide are getting hurt, too. Their venues often seek and get National Endowment of the Arts (NEA) grants to develop and stage productions, and the deadline to apply is approaching fast. But nobody's home at NEA to answer questions or take applications, union President Kate Shindle said. Trump shut down the agency.
"The connection between NEA grants, the arts, and economic development is no theory. It's a fact," Shindle said. "If plays aren't produced for lack of seed money, not only will the actors and stage managers be out of work, so will the bartender down the block, the parking lot attendants and the waiters in the nearby restaurants."
The contract workers talking with the three senators had immediate concerns: Paying the bills. And they blame Trump for being out of work. Opinion polls show most of the country agrees with that view.
"My 8-year-old keeps asking me 'Mommy, what's wrong?'" said Yvette Smith, ordinarily a private security guard at the National Air and Space Museum. She tries to hide her fears from her kids, but "my car note's two months past due and I'm afraid they might repossess it," both kids have asthma, and she's got high blood pressure. Smith needs money for medical bills.
"I don't know why Trump is holding us hostage. I don't care about no wall. He's a billionaire. Why's he taking our pay to build a wall?" she asked.
Speaking through an interpreter, 25-year contract worker Angela Vasquez told the senators that "I pay my taxes year after year" and that her pay, as low as it was, enabled her to send three kids to college. One has graduated, but the other two commute from home.
"They open the refrigerator and ask, 'Mom, why is there no food?'"
"One man's decision gives you pain," said Smithsonian contract security guard Tamana Worth. "I have diabetes, but I haven't had my medicine for a week because I can't pay the $30 co-pay." Until the shutdown, he said, "I'm consistent in paying my bills. I'm a workaholic, not a sit-home-aholic."
The Democratic-run House has passed multiple money bills to reopen the government. Both Houses approved legislation – and sent it to Trump – authorizing back pay for the regular federal workers when the shutdown/lockout ends. Minnesota's Sen. Smith authored legislation to ensure the contract workers get back pay, too, and the two Marylanders have signed on.
But Senate Majority Leader Mitch McConnell, R-Ky., refuses to bring up the money bills Trump opposes unless they include Trump's Mexican Wall. And on Jan. 17, McConnell took his majority on an expensive one-day retreat. A non-profit group funded by corporations and lobbyists pays for the retreat.
That didn't sit well with the senators or the contract workers.
"We live from paycheck to paycheck. And if paychecks stop, everything stops," concluded a worker who did not give her name.