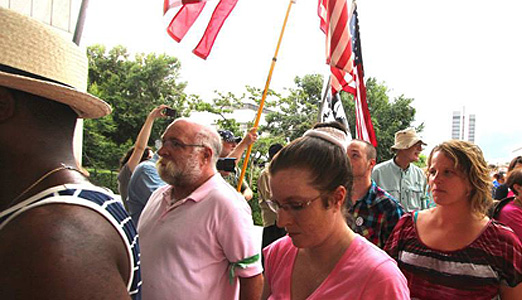 LILLINGTON, N.C. – On Monday July 8th, over 4,000 North Carolinians came together during the first day of the workweek to protest and participate in acts of civil disobedience as we have for the last 9 weeks. This was my 5th Moral Monday protest action. The Thursday before the prior Moral Monday I had made a conscious decision (which was not taken lightly) to take part in an act of civil disobedience that might mean arrest and detention. My daughter Tanya upon hearing this, jumped at the chance to join me (Political activism runs in our family genome).
We arrived at Christian Faith Baptist Church before the protest (all of those who were interested in participating in civil disobedience are asked to meet beforehand) and met with others who were participating, as well as with the leader of Moral Monday, the Rev. Dr. Barber.
There were 64 of us; young, old, black, brown, white, LGBT, and straight. A real snapshot of the citizens of North Carolina! Voices were raised and there was clapping and shouting in response to rousing talk by Dr. Barber, members and guests. Doctor Barber then gave a news conference to the media. Some were local, some from NY and some were from as far away as Sweden. Mark Thompson, who has a radio show on XM radio-left, was there and Broadcast his program from The Moral Monday protest. Everyone was treated as family and given water and other substance for our journey that evening.
Upon arrival at the protest site at Halifax Mall, we saw thousands upon thousands of people already there! What an amazing sight! Every Monday there is a focus and a topic. This Monday's was "The Numbers Matter," a protest against the actions of the extreme right wing running our state and education: Who have they hurt? What have they cost us? What are the numbers?
Speakers included Dr. Barber, the NAACP, Planned Parenthood and students as well as Mark Thompson who all focused on the NUMBERS. As Dr. Barber stated, we can all yell and protest, but we better KNOW the facts we are protesting against. The only thing that is worse than being wrong is being LOUD and WRONG! .
Going forward to more Moral Mondays
July 15, the date of next weeks rally will focus and be run entirely by the sisters on women's health issues. All others will attend to support our sisters in struggle against the onslaught. The following weeks after will be an interfaith rally lead by members of all clergy, including rabbis, Imams, pastors, priests, and more. The following weeks will be bringing it home. Rallies will be held in each of the 13 congressional districts of North Carolina to register the unregistered voters and organize for the battles that will surely be in front of us. Everyone at the rally was asked to take a vow for that each person will help register 50 people to prepare for the next election.
At the close of the general rally on Halifax Mall, all who volunteered to participate in civil disobedience lined up behind flag bearers, one carrying the American flag, one carrying the North Carolina flag and one carrying the Veterans for Peace flag. The huge crowd parted and we marched down the middle. It was just like the biblical story of the Red Sea. Everyone was cheering and clapping and it was an extremely proud and humbling moment for me.
We entered the Legislative building and took our place with Dr. Barber, and the gallery above soon filled with supporters singing songs: "We shall not be moved," and "We shall overcome." After Doctor Barber's address to the crowd and media, the chief of the capital police announced on his bullhorn a five-minute warning to clear the building. At that point there was booing and hissing against the chief. Rev Barber became visually upset; he quieted the crowd and said, "We will have none of this disrespect!" He continued, "The chief is a friend and is only doing his job and we will not disrespect the police." He then asked for applause for the officers who were only carrying out their jobs because this was not personal thing and said we must take the moral high ground. With that the crowd erupted into thunderous applause.
A few minutes later, the Chief of the Capital Police gave a two-minute waning on the bullhorn letting everyone know they must leave the building or be subject to arrest. With that warning, everyone who was not going to participate cleared the galleries and building, leaving just us 64 people and the approximately 15 police officers, both from the capital and Raleigh police departments, in the chamber.
One of the first to be arrested was a gentleman dressed like and who actually looked like Uncle Sam. The second person who was cuffed and led away was Mark Thompson who was leading us in protest songs. They could have none of that so they declined to go in order while making their arrests and got him out of there as quickly as possible! This didn't work though, as we were not derailed from our chanting and singing. Mark may have started it but he gave us the power to continue it. Then, two by two we were cuffed behind out backs and led to the legislative cafeteria to begin being processed for transport to the county jail now called a detention center.
In the cafeteria we were frisked, our personal belongs placed in an envelope and then we had our mug shots taken. After my mug shot was taken and I returned to my chair I noticed they didn't take my cell phone which I had on my belt. Knowing I would be frisked again at the jail I informed the chief who happen to be passing by they forgot my cell phone during the frisk, he looked at me, smiled, asked my name. He then took it and said it will be placed in my envelope that I would get back later.
Thankfully my daughter was in eyesight all the time, she is a grown woman but still my baby. We had some good conversations with some of the police who were "guarding" us — some of them intimated if it weren't for their jobs they would be standing with us in protest.
After a wait of about a half an hour we were taken to the prison transport buses for our trip to the jail. As we stepped out into the daylight where the buses were waiting to take us to our new fate I saw something beautiful. To my surprise there were hundreds of people across the street with the press applauding and singing as we were placed on the buses! Solidarity is great!!
The bus ride was uneventful as what are people who agreed to civil disobedience going do? Take over the bus? One funny thing did happen though. When we arrived at the jail before being taken off the bus, the officer who was our escort and whose demeanor was more of a kindly grandmother asked if Mr. so and so was on the bus. When he said yes he was, the officer said, "Your wife called and you forgot to leave her the car keys." With that the bus erupted in laughter and comments from the others as to how he might want to stay in jail for a few days to let the smoke clear at home.
Inside the jail we were once again frisked and the cuffs were removed before we were placed in holding cells. We waited about a half an hour, and then were told to line up outside the cells. Wrist shackles were applied so there would be ten of us shackled together. Our group was led by the person dressed as Uncle Sam. What a sight we were as we marched to the part of the complex containing the magistrate's offices! Uncle Sam leading older black and white guys chained together; even the prison guards got a kick out of the irony of the situation.
We arrived at the magistrates holding area and were again placed in a holding cell. Another half an hour went by and we were all called by name to see the magistrate; all 7 of us in our holding cell were told to make a semicircle in front of the magistrates window (which was like a window you see at a bank) as he would read the charges and then ask each one in our group to hand out the paper work to the rest of the group so we can be released. Mark Thompson volunteered to be our clerk to make sure all received their paper work. After signing the document we were escorted to the lobby to pick up our belongings and leave the building.
As we left the building one by one, a huge roar came from supporters waiting for us outside, including Dr. Barber who was there to welcome us back along with the NAACP legal team who did an excellent job with everything. My daughter was released 15 minutes before me and was waiting on the outside with my son-in-law and my youngest grandson Jonathon — who by the way turned 6 years old that day. Dr. Barber on hearing Jonathon was 6 called everyone together outside of the jail and everyone sang happy birthday to Jonathon who was hoisted up on his daddy Anthony's shoulders. A birthday Jonathon will never forget!
Conditions of my release
As for the future, I cannot step foot on the Legislative property until after my court day. Here are my charges as printed on my condition of release statement:
2nd degree trespass
Failure to disperse upon command
Violating legislative building rules
The conditions of signing myself out on promise to appear state that I must not return to the legislative property at 300 N. Salisbury Street and 16 W. Jones Street until the final disposition of this case. But I can and will return to the sight of the protest every Monday. I will have my day in court as will all others and the state will be forced to bend to the will of the people since we aren't going away. And a branch that won't bend will break because "The People united will never be defeated!"
Even though this was easy and in no way can be compared to the martyrs actions who have gone before such as Dr. King, Medgar Evers, John Lewis, Rosa Parks, Susan B. Anthony, W. E. B. Du Bois, Cesar Chavez and too many other to list, it is an honor to stand and fight and continue the struggle for those that came before.
Photo: Harvey and Tanya at the rally. Courtesy of Harvey Smith.