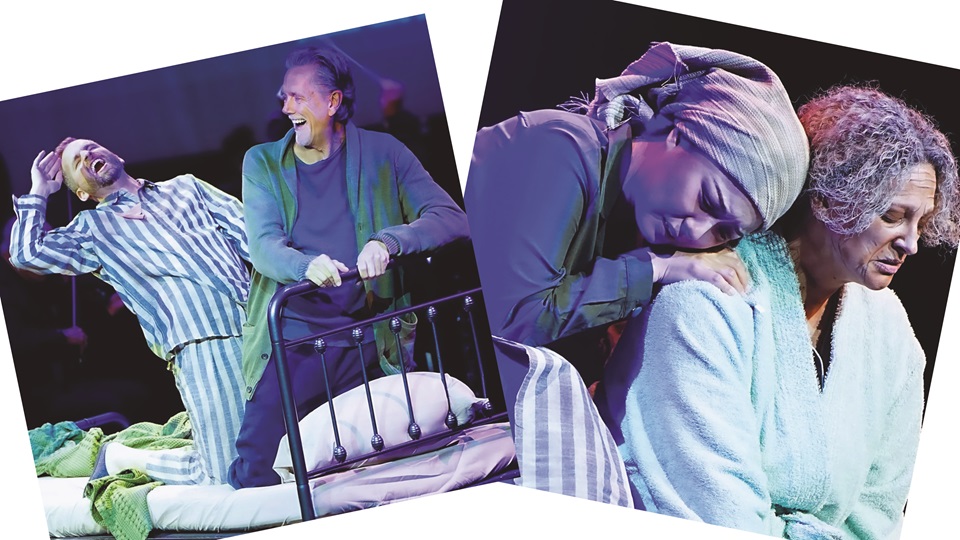 HUNTINGTON BEACH, Calif.—"Arguably the world's most popular 21st-century opera and art song composer," says The Wall Street Journal.
With such titles as Dead Man Walking, Great Scott, It's a Wonderful Life and Moby-Dick to his credits, the WSJ may well be correct in its judgment. An emotionally wrenching new Ivo van Hove production of Dead Man Walking recently opened the 2023-24 season of The Metropolitan Opera—itself a rare tribute.
That composer is Jake Heggie, whose prolific output includes works in almost all the known musical genres. I recall years ago, in Los Angeles, a concert sponsored by Music of Remembrance and its artistic director, Mina Miller, who had commissioned Heggie and librettist Gene Scheer to create a work about the persecution of gays during the Holocaust. I remember that piece well, a moving 30- or 40-minute opera for speaker and tenor, called For a Look or a Touch, based on the memories of gay German Jew Gad Beck (1923–2012), whose original German name was Gerhard. Its premiere in 2007 was not the end of the road for this one-act opera, however.
Five years later, Miller approached the composer-librettist team again, this time to craft another stage work based on the life of the Polish dissident and Holocaust survivor Krystyna Zywulska (1914–93), who with no prior literary or musical training had written original songs while held prisoner in the Auschwitz concentration camp as way to survive the brutality of her life there. This became the one-act opera Another Sunrise. Miller followed up with yet a third invitation—to create a song cycle based on Zywulska's lyrics. That became Farewell, Auschwitz (2013), using Scheer's free, poetic translations of Zywulska's Polish lyrics.
Now three substantial works were in existence. Perhaps they should be combined into one full-length evening? Instead, Heggie and Scheer reconceived Another Sunrise, combining it with the songs of Farewell, Auschwitz for Act 1 of an opera, with For a Look or a Touch as Act 2. This work received its premiere in 2016 as Out of Darkness, but it needed further revision. The final embodiment of the work appeared at the Atlanta Opera in 2018, directed by Tomer Zvulun. Now in its final incarnation, they renamed the work Two Remain—Act 1 "Krystyna" and Act 2 "Gad."
This is the work Lyric Opera of Orange County staged in their January 2023 production for the inaugural statewide California Music Festival. By popular demand, the company reprised its success for two evenings, Nov. 3 and 4, at the Huntington Beach Library Theatre. Now, Orange County (Anaheim, Santa Ana, Newport Beach, Laguna Beach) is not that big, but without a permanent home, the company tries to spread its work around—to schools and a variety of performance spaces to make opera accessible to all.
For this production, Kristin Roach served as musical director, and Scott Skiba was the stage director.
Both acts are based on memories of Holocaust survivors haunted by the events they witnessed and the often impossible choices they were forced to make for the sake of living to see "another sunrise." The main characters are visited by the ghosts of their past. As survivors, Zywulska and Beck would prefer, for their ease of mind, to forget that horrific past. But the ghosts want only to be remembered.
A Polish dissident
Krystyna Zywulska is described as a "Polish dissident." At Auschwitz she wears the red triangle, the symbol marking a political prisoner, we may presume a Communist. Born Jewish, as Sonia Landau, she joins the underground movement under the assumed identity of a woman born in 1918: "Hell, if I was going to be a shiksa, at least I could be a younger one," she muses about becoming a non-Jew. At an especially painful crux in this first act, she is recognized in the camp by a Jewish childhood friend from Łódź, and Krystyna is forced to denounce her as a complete stranger to maintain her new personhood. In secret, she composed her inspiring lyrics for her fellow prisoners, all the while doing her heartbreaking work in the Effektenkammer at Auschwitz, cataloguing the personal effects of thousands of women and children before they were murdered in the ovens next door.
Gene Scheer's libretto is based on Zywulska's 1946 book, I Survived Auschwitz, as well as her lyrics, and documents and journals in the U.S. Holocaust Memorial Museum. For Act 2, the text draws from testimony by Gad Beck, who had been interviewed for the film Paragraph 175, directed by Rob Epstein & Jeffrey Friedman. Beck also published his life story as An Underground Life: Memoirs of a Gay Jew in Nazi Berlin. In both parts of the opera, the composer and librettist explore the survivor's struggle to find the words to describe what happened to them.
There's a common perception that after the war, survivors were reluctant to tell their painful stories full of loss. In many cases a survivor might have lost their entire family, their entire village even. But they were encouraged by others to "move on," start a new family, have kids, and not trouble the world with their depressing accounts. Why burden the children with such terrifying nightmares? For many survivors, the new State of Israel provided hope, home and a future—where even the Yiddish language of most of the survivors was discouraged as too reminiscent of the past in exile.
What that perception ignores, however, is that particularly on the left, survivors insisted on telling their stories so that the world would not forget the crimes of fascism. Memory books about the shtetls they came from, personal tales of witness, poetry, fiction, all emerged in book or journalistic form, but much of it in Yiddish and untranslated.
In addition, many left-wing survivors, if they wished to emigrate to the United States, suppressed their histories in labor unions, in political parties, in the Resistance, in the underground, or as partisans in the forests, on the correct assumption that in post-war America such Communist-tainted information would be held against them. Millions of stories never got told and went to their graves with their owners.
In "Krystyna," we meet the aging woman (Diana Farrell) attempting to record her memories on a tape player at the request of a journalist. She summons up memories of her friends in the camp, Zosia (Kiana Hamzehi), Edka (Katherine Krasovec), Mariola (Alexandria Burdick), and her younger self, Krysia (Ella Yoon). Act 1 is studded with fond recall of the courage Krystyna's lyrics gave her fellow inmates, who passed them along to the others who came along afterward. Small gestures of kindness are shown, as well as acts of betrayal. "A survivor is not a hero," we are reminded. "A survivor is—a survivor." The goal to see another sunrise necessarily exacts a heavy moral toll: "What will it be, Krystyna? You or her?"
All her ghosts ask of her is to be remembered. "Shoulder to shoulder, Do not forget us when you get older." Zosia is an affecting character, predicting the future with a deck of cards she's illegally sequestered. She just didn't see it coming—being ordered to the oven—though the others did.
Not even the later re-creation of Auschwitz as a grassy memorial serves as an comfort. "Why did I come? A museum for tourists. It sickened me. Daytrippers with sandwiches."
Musically, this act incorporates snatches not only of Krystyna's songs, but of the music she knew in her previous life—waltzes, Chopin—that still reverberate in her head. The collective voices of the women portray distinct personalities while harmonizing in soothing chatter in Andrews Sisters mode as though heard from a distant room. Heggie's music, and Scheer's words, speak to every listener's heart. The act is about 50 minutes long.
Germany's "golden years"
In Act 2, Gad Beck (Phil Meyer in a mostly spoken role) is found in bed as an old man, restless with his memories and fears, when his first great love, the 19-year-old budding poet Manfred Lewin (tenor Michael O'Halloran), who was murdered in Auschwitz with his entire family, awakens him. All Gad has left of him is the journal of poetry—and his memories. Manfred, too, like the women in Krystyna's story, only asks to be remembered. The act of writing and performing an opera on these two figures is, of course, a meaningful way to fulfill that request.
As they reminisce about their young lives in Weimar Germany's "golden years," details emerge of what happened to them—how Gad posed as a Hitler Youth in full uniform, ordered Manfred's release from prison, only then to learn that his lover would not escape with him for he could not bear to desert his family.
Beck describes how even though he survived the war, he lost almost everyone in the thriving gay community in Berlin whom he had known. Historians estimated that more than 100,000 men and women were imprisoned for homosexuality during the Holocaust; how many thousands were killed is not known. Yet even after the war was over, Paragraph 175, the German law from the Kaiser's time prohibiting homosexuality, remained in effect. Almost incredibly, some prisoners who survived were sent back to jail on such charges. Gad had no one to share his story with. No one wanted to hear it—and it could lead to his own further endangerment. The law endured until 1969.
The musical mood is somewhat different here, as the vibrant Schwanenberg cabaret life of their youth is so fondly remembered (with dancers Leah McCall, Madeline McMillin, and Ally Helman). "Wild, free, topsy-turvy joyful Berlin!" Manfred reminds Gad, "The night was for more than sleep!" Pop music comes out of the small backstage orchestra (piano, flute, clarinet, violin, cello, bass).
The title For a Look or a Touch refers to the Nazi manner of entrapping homosexual men—if by the slightest touch on a police decoy, or even a glance at someone in the park. In this act, as in the first, the metaphor of stars comes into play—each star in the firmament representing a lost soul still shining on us. "Every star had a name. This is not the end. Every one had a light. Future stars will light the sky."
At the end, the cast from "Krystyna" reenters the stage for a final anthem of defiance and remembrance to conclude this 42-minute act. We somehow believe their fighting spirit will never die. The opera is rich with sentiment but not drenched in sentimentality. These are lives honestly, yet artfully, portrayed, with all the contradictions that make people human.
Information on Lyric Opera of Orange County and its forthcoming performances can be found here.
We hope you appreciated this article. At 

People's World

, we believe news and information should be free and accessible to all, but we need your help. Our journalism is free of corporate influence and paywalls because we are totally reader-supported. Only you, our readers and supporters, make this possible. If you enjoy reading 

People's World

 and the stories we bring you, please 

support our work by donating or becoming a monthly sustainer today

. Thank you!