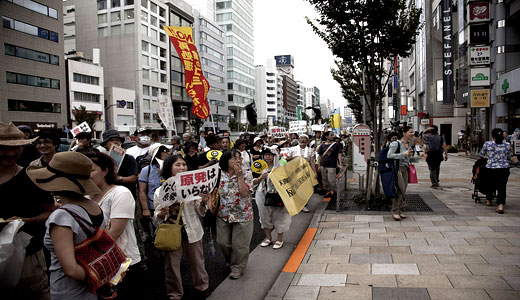 The global nuclear industry faces tough times – and activists feel optimistic – in light of historic news that Japan has decided to completely abandon nuclear power by 2040. But environmentalists like Greenpeace caution that, as Japan supposedly phases out its nukes over the next three decades, it must also take steps toward making renewable energy feasible.
In May, Japan shut down its last reactor in operation, briefly making the entire country nuclear-free for the first time in more than 40 years, though two reactors were later restarted. Overall, however, the government plans to slowly wean itself off atomic power in order to reach a permanent nuclear-free future.
The announcement that it would do so came last week, and follows a July 16 protest by over 100,000 Japanese citizens in Tokyo. The protesters clearly demonstrated they opposed the potential threat of nuclear energy, and wanted no more "Fukushimas." That gathering, which also criticized atomic power from economic and environmental standpoints, was a rare and inspiring example of solidarity among average residents, and was apparently enough to shake even the country's nuclear industry.
The demonstration's influence is all the more impressive, in light of the level of control that pro-nuclear corporations have in Japan.
The Tokyo Electric Power Company (TEPCO), is one of the biggest players in the Japanese nuclear industry, and as the largest electric utility in Japan (and fourth largest in the world), has a tremendous level of influence on economics and environmental policy. In 2010, TEPCO's overall profits were $1.66 billion, but following the Fukushima disaster, the company is expected to face $23.6 billion in special losses this year to compensate communities near the crippled Fukushima plant.
Many now feel that the company is going to go to great lengths to protect its profits and influence, and that that is going to get in the way of the shift from nuclear power to clean energy. Proof of that fear came today, when the government announced it would dial back conversations about its plan to ditch atomic energy by 2040, after intense uproar on the part of TEPCO. The sudden unwillingness to discuss the matter has citizens wondering if the government will cancel its plans.
"It's just a matter of decision-making," explained National Strategy Minister Motohisa Furukawa. "There is no real change" to the plan yet.
TEPCO, meanwhile, plans to "save" itself $659 million this year by cutting the pay of all of its workers by 20 percent, and reducing the portion of the health insurance program it covers by 10 percent.
Senior investment strategist Norihiro Fujito suggested that the people of Japan would need to continue their demonstrations and protest of corporate influence, noting, "Sweeping reform of the power industry requires tremendous political energy. Bureaucrats – particularly the trade and industry ministry officials – would only focus on avoiding the collapse of TEPCO."
Other countries are already taking their own steps to leave nuclear power behind. Germany currently stands as a paradigm for abandoning harmful fossil fuels, as the last remaining nuclear reactors there will go offline by 2022 as the country makes the switch to clean energy, a decision that is supported "by three fourths of Germans and opposed by no political party," according to nonprofit think-tank Rocky Mountain Institute.
Spain, meanwhile, also plans to abandon atomic power, with one of its seven remaining reactors set to be shut down in mid-2013.
Back in Japan, organizations like Greenpeace have encouraged the government to follow in the footsteps of those countries.
Kazue Suzuki, Greenpeace Japan's nuclear campaigner, remarked, "The government's strategy involves a nuclear phase-out nearly two decades later than needed," but added, "It also provides clarity for the business community that renewable power, not nuclear, is needed.
"The government must use its new energy strategy as a starting point for a far more ambitious renewable policy, greater energy efficiency measures, and increasingly bold strides toward the sustainable green economy that will secure Japan's future prosperity."
The green energy focus is a must for a country that until very recently was 30 percent nuclear-dependent. Without investing in renewables, the approx. $66 billion cost of natural gas imports could spark worries of an energy crisis and a faltering economy.
But things are not entirely unfortunate: Despite the predictions of Big Business, Japan made it through the summer without much nuclear power (with just two reactors being in operation), and had no power shortages or blackouts.
"For too long," said Suzuki, "Japan's leaders have ignored the people and gambled the health, safety, and economic stability of every citizen on nuclear power, and as the people of Fukushima continue to suffer, so does the rest of our country. This announcement [about leaving nuclear power behind] must become law – otherwise, it will be seen as nothing but lip service to buy votes before the coming election.
"A nuclear-free future is not a choice; it's an inevitability. This energy strategy provides Japan's first real step in eliminating nuclear risks forever, and it will send a message to other countries that it is time to end the use of this dangerous technology once and for all."
Photo: Protesters in Tokyo protest atomic energy, chanting, "Sayonara, nuclear power!" kumuaka/Flickr