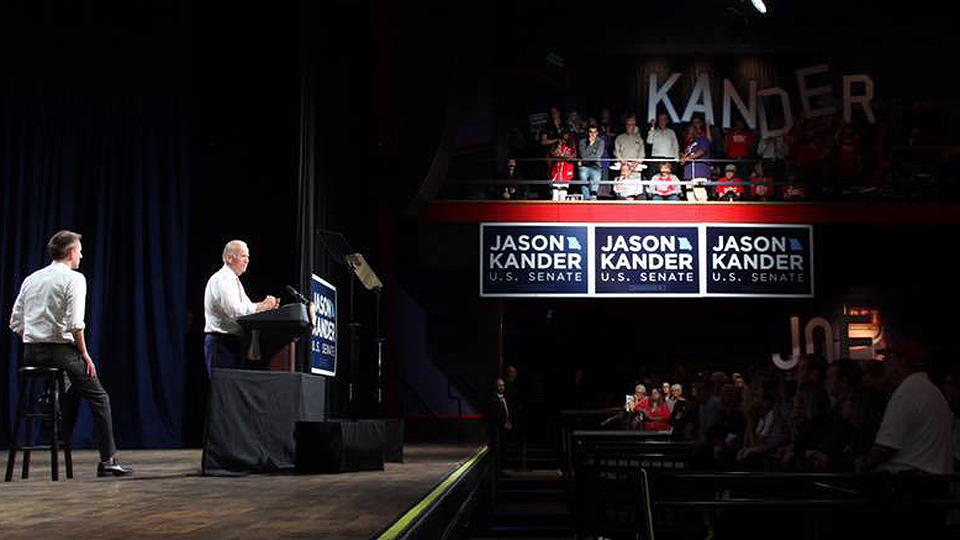 ST. LOUIS – In a move that illustrated the Show Me State's increasing importance to the national political landscape in this final stretch of the 2016 election cycle, vice president Joe Biden last Friday held a campaign rally here for Democratic U.S. Senate candidate Jason Kander.
Kander is challenging a right-wing incumbent, Republican Roy Blunt.
Biden told the crowd that electing Kander is a top priority if Democrats are to regain control of the Senate – which is a real possibility.
Kander, 35, is an Army veteran and strong union supporter, formerly a member of the Transport Workers Union (TWU). He has served as a state representative and secretary of state, and is considered by many to be someone who could build bridges between Missouri's largely African American, working class urban centers of St. Louis and Kansas City and its predominantly white, rural areas.
That game-changing ad
Kander's campaign recently garnered national media attention when he released a commercial attacking Blunt's record on gun control. In the commercial, Kander, blindfolded, assembles an automatic weapon while advocating for background checks on gun purchases.
"I'd like to see Senator Blunt do this," he says in the ad.
Since that ad aired, the Democratic Senatorial Campaign Committee (DSCC) pulled advertising dollars out of Florida, where ousting GOP Senator Marco Rubio is now seen by some as a long shot, and redirected considerable funds to Missouri in support of Kander.
Surprising no one, Kander, who clearly knows how to handle a gun and can speak from direct military experience, has come under attack from the National Rifle Association. The NRA, along with other far-right groups, claims he wants to further the so-called 'liberal agenda' by taking away guns, expanding Obamacare and increasing taxes on large corporations.
Kander is endorsed by the Missouri AFL-CIO and most unions.
Blunt, on the other hand, is a career politician. He has spent nearly twenty years in Congress; he has sought some form of public office for forty-three years. FC
Unlike Kander, Blunt doesn't even live in the Show Me State. Instead, he lives in a $1.6 million-dollar mansion in Washington, D.C. Additionally, while he has argued against increasing the minimum wage, Blunt has voted to increase his own pay twelve times and is now a multi-millionaire. Further, he sees no conflict of interest in family members becoming paid lobbyists, including his wife FC.
Kander's policies
Of considerable importance to Missouri voters, especially rural voters, is the candidate's record on veterans.
According to MO AFL-CIO president, Mike Louis, Blunt is a "veteran hugger but does nothing to help them when it comes to the things they really need passed on the federal level."
The National Union Veterans Council has endorsed Kander. There are over 500,000 veterans in Missouri, many of them union members in rural areas.
Kander, on the other hand, spent most of his legislative career advocating on behalf of veterans, fighting for technical and job training for returning vets, as well as hiring preferences for veterans and their spouses.
Kander has tried to reduce corruption in state government. As secretary of state, Kander reduced his agency's budget by nearly two million dollars and barred his staff from accepting lobbyists' gifts.
As a U.S. Senate candidate, Kander has vowed to repeal Citizens United. He knows first-hand the dangers unlimited campaign contributions pose to the democratic process, as Missouri currently has no campaign donation limits.
Blunt's dismal record
According to Kander, Blunt has "never missed an opportunity to be on the wrong side of an issue that affects working Missourians."
Blunt supports so-called Right to Work, which would severely undermine workers' rights to form and join unions. He also supports out-sourcing good paying, union jobs overseas, including fast-tracking the controversial Trans Pacific Partnership.
While Kander will likely receive overwhelming support from African Americans and union members, his military service, advocacy for veterans and his young age has the potential to split Republican votes in Missouri's rural areas – and this has Blunt running scared.
A recent poll put Kander and Blunt within one percentage point of each other, with a margin of error of four points.
In other words, right now it's a dead tie.
If Kander can pull through with a victory here, possibly boosting turnout for campaigns further down the ticket, we could see more Democrats elected to Congress and to the Missouri state legislature, which has been dominated by Republicans for many years.
Additionally, with a number of initiatives on the November ballot, including campaign contributions limits, a Kander victory could help propel higher turnout.
Further, a Kander victory could help flip the U.S. Senate to blue, which would give progressives more ground on which to shape policy on a national level.