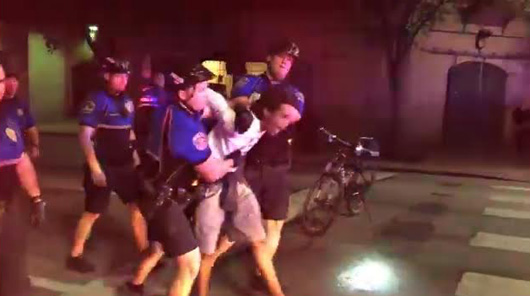 AUSTIN – The Austin Police Department is investigating an arrest that occurred Friday at around 2:30 a.m .at the 600 block of E. Sixth Street. The video, that has circulated its way around the Internet, shows police officers rushing a couple of men as they make their way towards the opposite end of the street.
The individuals are immediately tackled to the ground with excessive force as they yell out in confusion. Twelve seconds into the video you see an officer kneeling and punching a young man as cops repeatedly order him to "be still." The victim continues to respond with "I'm down bro, I'm down!" as another officer punches his arm.
A female acquaintance in the video immediately voices her outrage.
"What are you going to do with him?"
"Take him to jail"
"For what?"
"For crossing against the light."
Rolando Ramiro, the man who recorded the incident, said the situation began when he and his friends were walking across a barricaded street and the light changed as they were crossing. Other reports indicate that the friends were attempting to ask whether they were allowed to cross, right before they were bombarded.
Jeremy Kingg, one of the victims, has since been released and tweeted in the aftermath of his arrest, "The prosecutor dismissed my case since I didn't do anything wrong which is a blessing… its kinda like it never happened but I'll remember."
This episode followed another Jaywalking "crime" from 2014 that involved 24-year-old jogger Amanda Jo Stephens. During a run, Stephens was unable to hear the police calling after her, due to her headphones being on.
A cop proceeded to grab the young woman's arm from behind, which is when she reacted by jerking it away. Stephens was then asked to identify herself, but refused – and was ultimately handcuffed and hauled off.
In the video online that captured her arrest she can be heard screaming, "I didn't do anything wrong! Didn't f*ck*ng do anything wrong! I just crossed the street." Stephen was one of 28 people who was stopped for jaywalking the day of her arrest.
A total of seven pedestrians were issued citations. Austin Police Chief Art Acevedo had a disturbing response to the incident, stating, "She's lucky I wasn't the arresting officer, because I wouldn't have been as generous. … In other cities there's cops who are actually committing sexual assaults on duty, so I thank God that this is what passes for a controversy in Austin, Texas." He later issued an apology but the message was clear; complacency by any means necessary.
These arrests are a product of a 'pedestrian enforcement' initiative that was launched, although some would argue that it is simply an unnecessary abuse of power. At this point it is unclear if the officers' actions had been in compliance with departmental policy, but the ADP has released an official statement stating that "the Chain of Command will review the Response to Resistance and the incident to determine what led up to the events captured in the video and whether the officer's actions were in compliance with APD policy."
This is one of numerous cases in the last several years that have depicted the overexertion of force by cops. Some claim that these officers are simply "doing their job" and others see it a very real issue of implicit bias within our criminal justice system.
Both young men that were arrested on Friday were African American, a fact that coincides with the alarming statistics of black men arrested in Texas. In a study conducted during the midst of the Ferguson protest last year, USA TODAY found 1,600 locations where the disparity in arrest rates between blacks and whites is more pronounced than in Ferguson. Texas had over 50 of them.
This is not new news to the numerous men and women that have been the target of police brutality in the past. It is an ongoing fight for justice that has been fueled by virtual platforms and social media. Until a feasible solution is put on the table, citizens continue to fight back the only way they can; by sharing information and exposing the actions of corrupt officials.
Photo: Screenshot