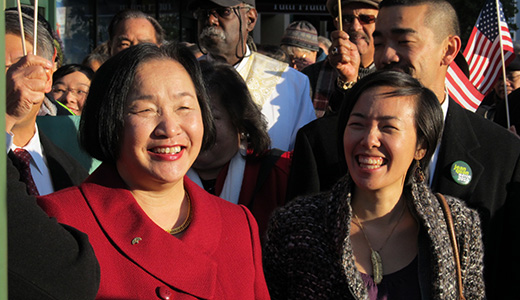 OAKLAND, Calif. – In a ceremony marking several "firsts" – first woman and first Asian American to head this city, and first Asian American woman mayor of a major U.S. city – Jean Quan, a former labor organizer and school board and city council member, was inaugurated Oakland's 49th mayor Jan. 3.
"The first thing I want to do is to put children and youth at the heart of the politics and the business of Oakland," Quan told the audience that filled the ornate and beautifully restored 3,200-seat Fox Theater, itself symbolizing the city's growing resurgence as an arts center. The new mayor is seeking 2,000 volunteers to mentor challenged young people, a move she said will increase high school graduation rates, and plans to create a mayor's cabinet on education.
Jobs are also a top priority for Quan, with emphasis on building the city's retail activities. On public safety, Quan noted that California spends 11 percent of its annual budget on prisons but just 6 to 7 percent on education. She asked, "What's wrong with this picture?" If young people have no hope, she said, crime will continue to be a problem. Quan also pledged to change a situation in which 85 percent of Oakland police live outside the city.
The new mayor also challenged audience members to volunteer "at least one hour a week" to help Oakland become truly "a city of dreams."
In her first 100 days, Quan plans to hold town hall meetings in all city neighborhoods, starting with a poor working-class neighborhood in West Oakland.
Inauguration day began early, as hundreds of supporters – a virtual rainbow of the population of this highly diverse city – joined Quan and state Assemblyman Sandre Swanson in a history walk recalling her family's move to Oakland from earthquake-stricken San Francisco 104 years ago, "with nothing but the clothes on their backs." Quan's great-grandfather and his three sons turned to the Loong Kong Tien Lee Family Association in Oakland's Chinatown, which helped quake refugees find jobs and housing.
Next on the walk came Oakland's second oldest public school, Lincoln School, where Quan's father was a pupil. The school, attended during segregation by Chinese and African American students, is among 300 U.S. schools to win this year's National Blue Ribbon award for sustained achievement.
At the Malonga Casquelourd Center for the Arts, Quan urged her supporters to explore unfamiliar parts of the city, and at the Alameda County Waste Management Authority, she noted that Oakland is rated the fourth greenest U.S. city, and called for further environmental action.
Along the way Quan was greeted by labor, cultural, political, environmental and other leaders spanning the Oakland community.
Labor was especially prominent in the history walk, with the Alameda Labor Council providing marshals, the International Longshore and Warehouse Union's drill team performing, and many union members participating. The former Leamington Hotel, where Quan's father worked as a union cook, was a prime stop.
Quan's father died when she was just five years old, and as she grew up she worked at odd jobs to help her mother, who could not speak, read or write English. Winning a scholarship to the University of California at Berkeley, Quan mentored students in a poor Oakland neighborhood, and participated in the 1969 Third World Strike that led to establishment of ethnic studies departments at U.S. universities. She was later one of SEIU's first Asian American organizers.
Quan served for 12 years as an Oakland School Board member, and was elected to the City Council in 2002.
Her family – husband, Dr. Floyd Huen, a physician, daughter Lailan Huen and son Dr. William Huen – were central in her campaign. They joined her on the walk, and on the Fox Theater stage as she was sworn in.
Marking another "first," Quan won office Nov. 2 in Oakland's first election using ranked-choice voting, in which voters specify first, second and third choices, and as the lowest ranking candidates are eliminated, their second and third choices become votes for candidates still in the running.
Photo: Newly inaugurated Mayor Jean Quan, with her daughter Lailan Huen and son Dr. William Huen, during the historical walk through Oakland, Jan. 3. PW/Marilyn Bechtel