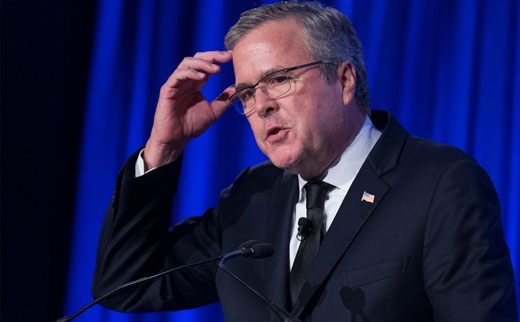 The American people are fed up with Wall Street and the right wing can't ignore it. The 99 percent are furious about paying higher tax rates than the billionaires.
At Wednesday's Republican debate, look for Jeb Bush to try to ride that wave of anger with a startling proposal to raise taxes for hedge fund managers.
Bush's tax proposal, according to New York Times finance columnist Andrew Ross Sorkin, would raise the tax rates that the hedge fund managers pay on the money they "earn." Right now that rate is only 15 percent, compared to the 25 percent the average American pays and the 39 percent that highest incomes are supposed to be taxed at. Eliminating this hedge fund privilege in the tax code would raise $17 billion that could go a long way to funding education, child care or heck, just reducing taxes on the rest of us.
So why aren't the hedge hogs squealing about the $17 billion dip into their trough?
The answer is that they've read the whole plan, and so should we. While it's the headliner, actually the tax increase on hedge hogs is only a relatively small aspect of Bush's plan. Don't expect to hear too much about the rest. It's like one of those giant "loss leader" sales to lure you into the store. You feel like you got over with 10 cent bananas, but by the time you paid an extra 50 cents on 20 other items, you come out behind. In the case of Bush's loss leader, the rest of his plan drops corporate tax rates from 35 to 20 percent and reduces the individual rate on billionaires to 28 from about 39 percent. The hedge fund guys will come out just fine.
In fact, Jeb himself would pay nearly a million dollars a year less in taxes, according to an estimate by Catherine Rampell of the Washington Post.
Photo: Jeb Bush. | John Minchillo/AP