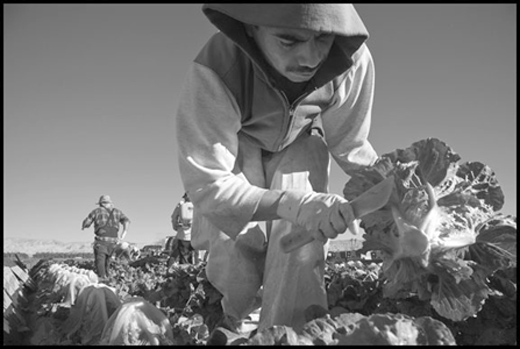 The fight for farm worker overtime is going down to the wire in California's current legislative session, which will adjourn at the end of August. And as Assembly Bill 1066, which would require it, moves through the legislature, Jewish and African American organizations have made a commitment to win the votes it needs for passage.
A bill that would have phased in overtime pay for farm workers, Assembly Bill 2757, passed the State Senate earlier this year, but then failed to pass the State Assembly in a vote on June 2. Since then a new bill, AB 1066, has progressed through the Senate's Appropriations Committee, and may be sent to the Assembly within da
The bill would then need to pick up the four votes by which AB 2757 failed in June. They will have to come from either the eight Democrats who voted "no" or the six who failed to vote at all.
Both Jewish and African American organizations are planning to win those votes. They point to the racism behind the exclusion of farm workers from New Deal-era laws that guaranteed most other workers overtime pay after eight hours of work in a day.
Excluded from FDR's New Deal
As Rabbi Aryeh Cohen notes in the Jewish Journal, "When FDR began to amass the coalition which would pass the Fair Labor Standards Act in 1938, Southern Senators, Senators from the Jim Crow, slave-owning former Confederacy, refused to sign on unless worker protections for domestic workers, and agricultural workers were not included. It was no coincidence that these workers were almost all African-Americans. The country, and our state, has begun to address these injustices. There is now a domestic workers' bill of rights, and agricultural workers are now paid minimum wage (which will gradually increase to $15 an hour). The final hill is overtime wages. This is the last vestige of this racist holdover."
The exclusion of African Americans was highlighted in a letter from Alice A. Huffman, president of the California State Conference of the National Association for the Advancement of Colored People (NAACP). "The enactment of the Fair Labor Standards Act of 1938 excluded farm workers from wage protections and maximum hour standards," she said. "During the time this law was put into place, there was a large population of minorities who were indeed farm workers, and for the last 78 years California has failed to bring equality in our workforce. This can no longer be justified or tolerated."
AB 1066 phases in overtime pay, so that farm workers will receive time-and-a-half after 9.5 hours in a day in 2019, 9 hours in 2020, 8.5 hours in 2021, and 8 hours in 2022 (when they will also receive double time after 12 hours).
Growers have argued in AgAlert, the weekly newspaper of the California Farm Bureau Federation, that "the higher cost of providing overtime pay, particularly when coupled with scheduled increases in the state minimum wage, would force farmers to reduce employee work hours to control labor costs."
The phase-in sections of the bill are intended to allow growers to make the transition gradually. And since they have complained that they also have to raise wages to comply with new minimum wage requirements, AB 1066 allows the Governor to suspend the overtime provision. But he can only do so by also suspending the popular minimum wage increases at the same time. That might prove politically very difficult for the current Democratic governor.
Faith groups have already begun meeting with some of the 14 Democratic holdouts. Rabbi Jonathan Klein of Clergy and Laity United for Economic Justice went with two other Southern California rabbis from the Religious Action Center of Reform Judaism to meet with the staff of Assembly member Richard Bloom. Bloom, whose district includes Santa Monica and Beverly Hills, did not cast a vote on AB 2757, which was the equivalent of voting no.
"What we got was uncertainty," Klein reports. "They said there were no studies about it and that it might lead to a drop in the economy. But Bloom voted for increasing the minimum wage, which is a much bigger economic challenge, so what sense does that make? The growers have a lot of money, and I think legislators are afraid of it."
Linking up with domestic workers
A bill guaranteeing overtime for domestic workers, who were also excluded from the Fair Labor Standards Act, is proceeding through the legislature at the same time as AB 1066. The Domestic Workers Bill of Rights, which enacted the overtime requirement, was passed three years ago. But it expires this year if the legislature does not act to renew it. Assembly Bill 1015 would restore the requirement and make it permanent.
In a recent march in Sacramento, domestic workers, their children and supporters drew a parallel between their situation and that of farm workers. They lobbied Democratic legislators, who almost universally spoke out strongly in favor of requiring overtime for domestic workers. Some Democrats, however, were silent about farm workers, and had voted against farm worker overtime in June.
"Just like domestic workers, farm workers also deserve overtime pay," declares Lillian Galedo, director of Filipino Advocates for Justice, a member of the California Domestic Workers Coalition.
Bloom did not respond to a request for comment, nor did Mark Levine and Bill Quirk, Democratic assembly members from the Bay Area who voted no on AB 2757 in June. Assembly member Jim Cooper's staff said he would not comment on AB 1066 or the NAACP letter, which notes that the bill "is a commonsense solution that will make farm workers eligible for overtime pay like every other worker." Cooper, an African American legislator whose district stretches from Sacramento to Lodi, was a "no" vote in June.
Putting the pressure on Democratic holdouts
The 14 Democratic holdouts "are going to have a chance to redeem themselves on AB 1066," says Giev Kashkooli, legislative director for the United Farm Workers. If the bill passes it will then be up to Governor Jerry Brown to sign it.
Brown has made his support of the Agricultural Labor Relations Act (ALRA), the bill that guaranteed union rights for farm workers, a cornerstone of his political career since he signed it in 1975 during his first term as governor. While pressure from California growers to draw the line at overtime pay is intense, the measure is as popular as the original ALRA, even among some Democrats supportive of agricultural interests.
Senator Diane Feinstein, who has sponsored federal legislation for growers throughout her career, signed a letter advocating overtime for farm workers. Prior to last June's vote, she announced, "I support Assemblywoman [Lorena] Gonzalez's legislation [AB 2757] because it will allow for the fair treatment of those who make up the backbone of our U.S. agricultural industry."
"I hope the Governor calls her," Kashkooli said.
David Bacon is a California writer and award-winning documentary photographer. A former union organizer, today he documents labor, the global economy, war and migration, and the struggle for human rights. This article originally appeared on his blog, The Reality Check.
Photo: A farmworker harvests romaine lettuce near Mecca, California in the Coachella Valley, where the temperature this summer reached 115 degrees. Workers cutting lettuce in this crew are paid by the piece-rate, and work so fast they are almost running through the field, bent over double all day. | © David Bacon