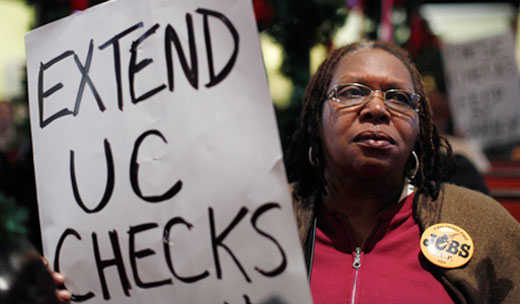 With the clock ticking down on a Feb. 29 deadline for both extending extra federal jobless benefits and the "temporary" payroll tax cut for 160 million workers, the Service Employees are sounding the alarm that Republican lawmakers are plotting to allow the benefits to lapse.
In an emergency notice sent out to the membership and thousands of allies across the country the union is urging everyone to call, write or email their lawmakers to approve a measure containing provisions for both the benefits extension and continuation of the payroll tax cut for working people.
President Obama is campaigning for both the payroll tax cut and the longer jobless benefits.
The labor movement is backing the measures, saying that in addition to being a lifeline for struggling millions, they will provide an essential boost to the economy at a time when the recovery is still precarious.
Labor and its allies are warning, however, that the GOP and its tea party wing are working to sabotage the extensions due in less than three weeks.
"If they don't reach an agreement, 5 million workers risk losing their unemployment benefits," said Mary Kay Henry, SEIU's president. "We can't allow politicians to play games with this vital lifeline for hardworking families. Congress must extend unemployment insurance through 2012 – without adding difficult, new requirements for unemployed workers."
Republicans are tying up negotiations in Congress, according to news reports, by arguing about "how to pay" for the unemployment benefit extension, which will cost $160 billion through the end of the year.
They are pushing to make the extension as short as possible and, in addition, want to pay for it by attaching an amendment that would continue for another year a freeze in the pay of federal workers.
The Democratic negotiators oppose the continued pay freeze and want to pay for the extended benefits through a surtax on millionaires and billionaires, which the GOP rejects.
Some lawmakers, said Henry, "are threatening to use this critical deadline of Feb. 29 to cut unemployment insurance or impose difficult, new restrictions on jobless Americans who have lost their jobs through no fault of their own." Workers and their families, she said, "could lose benefits they've paid into and that their families depend on."
In exchange for backing the extension of President Obama's tax cut for working families Republicans are demanding at least $70 billion in cuts to programs that benefit those families. Approval of the GOP demands would result not just in a longer pay freeze for federal workers but higher Medicare premiums and smaller subsidies for the purchase of health insurance under the new health care law.
Senate Majority Leader Harry Reid, D-Nev., said he will put forward his own bill, one that requires those earning over $1 million a year to contribute to the $200 billion cost of extending the payroll tax cut and the unemployment benefits.
Economists from all points along the political spectrum are urging Republicans to cease their obstruction.
Federal Reserve Chairman Ben Bernanke and even Moody's Analytic chief economist Mark Zandi testified before Congress yesterday, telling lawmakers that they should extend the payroll tax cut so as not to undermine the fragile economic recovery.
Photo: At a "Vigil for the Unemployed" in Philadelphia. (Matt Rourke/AP)