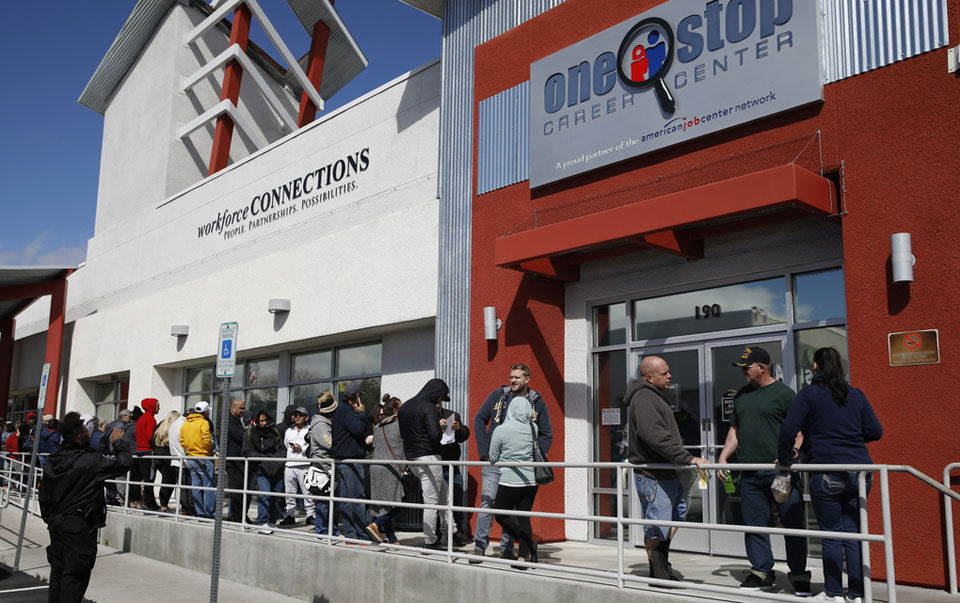 WASHINGTON—Actual initial claims for state and federal jobless benefits combined climbed to 1.44 million in the week ending August 15, the Labor Department reported. The adjusted figure, however, was 215,000 claims higher than that, all for state jobless benefits alone.
The increase pushed the official number of unemployed to 28.06 million, BLS added. Private analysts put the figure closer to 56 million.
Almost half of all jobless workers—including "independent contractors," farmworkers, caregivers, musicians whose venues closed, and "gig economy" workers–got just the $600 weekly federal joblessness checks, which have now run out and which Trump and the Republicans have no intention of renewing.
The program stopped taking applications on July 31. The Senate's ruling Republicans want to cut the $600 down and 20 of those 53 solons want to cut it out altogether.
Democrats and independents want to keep the $600 checks, and the partisan struggle over that and other issues is why the House enacted another big stimulus bill, the $3 trillion Heroes Act (HR6800), but the GOP-run Senate has sat on it.
While BLS, which is non-partisan, didn't discuss the political implications of the rise in jobless claims or the end of the federal jobless checks, speakers at the virtual Democratic National Convention did. So did the Economic Policy Institute.
"Because of Donald Trump's failures, we must rescue a sinking economy," said former Obama Labor Secretary Hilda Solis, now a Los Angeles County supervisor.
"It's wrong for billionaires to get richer" from the Trump-GOP $2 trillion tax cut of 2017, "while millions lost their $600 a week," said former Secretary of State Hillary Clinton, the party's 2016 nominee. She lost the Electoral College vote to Trump despite winning the popular vote by 3 million.
"Last week was the third week of unemployment in this pandemic for which recipients did not get the extra $600," EPI Policy Director Heidi Shierholz said. "That means people on unemployment insurance are now forced to get by on the meager benefits which are in place without the extra payment, which are typically around 40% of their pre-virus earnings. It goes without saying that most folks can't exist on 40% of prior earnings without experiencing a sharp drop in living standards and enormous pain.
"Earlier this month, President Trump issued a sham of an executive memorandum. It was purported to give recipients an additional $300 in benefits. In reality, even this drastically reduced benefit is only available to recipients in a handful of small states, and only for a few weeks. The executive memorandum is a false promise that actually does more harm than good because it diverts attention from the desperate need for the real relief that can only come through legislation.
"This is cruel and terrible economics."