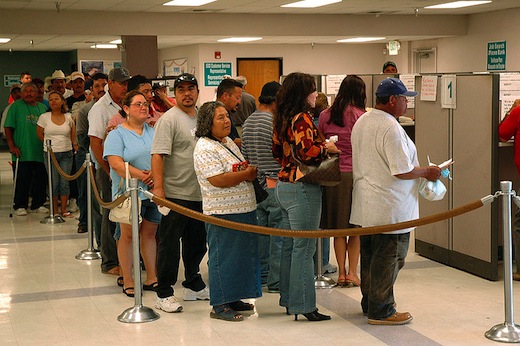 WASHINGTON – The unemployment rate ended up at 6.7 percent in December, down from 7.9 percent at the end of 2012 because more than half a million people stopped looking for work altogether, leaving 12.3 million officially unemployed.
Private businesses claimed officially created only 74,000 new jobs in December, far below the more than 200,000 per month that have been created for more than a year now.
The official jobless rate fell in December, the Dept. of Labor said this morning, because 525,000 people dropped out of the workforce during that month.
The Great Recession, now supposedly over, doubled unemployment from around 5 percent to 10 percent after former President Bush left office. It has gradually declined ever since, due to recovery measures President Obama pushed through the then-Democratic-run 111th Congress. Most of those measures have ended.
"The unemployment rate has finally dipped below 7 percent, more than four and a half years since the recession supposedly ended," said Thea Lee, the AFL-CIO's deputy chief of staff and longtime top economic analyst.
"But that fall was driven mostly by people dropping out of the labor force, not by healthy job creation. Job growth at only 74,000 net new jobs last month is nowhere near robust enough to get the labor market back on track for healthy growth and full employment.
"It is more critical than ever for Congress to quit dawdling and pass an extension of unemployment insurance immediately. It is a disgrace that 1.3 million Americans lost benefits at the end of December while too many Republicans in Congress remain fixated on irrelevant and counter-productive austerity measures," she added.
A high proportion of the jobless, 37.7 percent, have been out of work more than six months. Those long-term unemployed have exhausted their state jobless benefits, which they and their firms paid into. The Republican-run 113th U.S. House, under the sway of its tea party zealots, shows no sign of wanting to extend federal jobless benefits for three months, as Obama and organized labor demand.
Almost one of every seven workers (13 percent) are jobless, or work part-time even though they want full-time employment or are so discouraged that they have stopped looking.
Last December, that share of the workforce was 14.4 percent. It was 15.2 percent at the end of 2011.
Factories added 9,000 jobs in December, rising to 12.028 million, up from 11.99 million at the end of 2012. The December gains were all in fabricated metal products (+5,000), steel and primary metals (+3,000) and food plants (+5,300). Cars and parts (+39,800 jobs) was the big gainer for the whole year, with food plants (+10,500) second.
There were 854,000 jobless factory workers (5.5 percent) at the end of 2013, down two full percentage points, and 291,000 in number, from December 2012.
Construction shed 16,000 jobs in December, cutting its gains to 122,000 for the year. That reflects the sluggish recovery of housing construction. Most of last year's gains (+73,000 jobs) were at specialty trade contractors. And 958,000 (11.4 percent) construction workers were officially jobless at the end of 2013, down from 1.1 million – one out of seven – at the end of 2012.
Construction union leaders say the jobless data underreports the distress among their workers, as a worker who's working even one day in the week the Bureau of Labor Statistics uses for its counts is considered employed.
Service-providing companies claimed to create 90,000 new jobs during December and 1.181 million during the year. Low-paying jobs dominated the service industry additions in December and during the year: Temps (+40,400, +247,400 for the year), health care (+208,000 for the year, even after losing 6,000 jobs in December), and bars and restaurants (+9,400 in December and +306,000 for the year).
There were 14.66 million health care workers at the end of 2013, and 10.41 million people toiling in bars and restaurants – the lowest-paying sector of all, according to federal data.
The federal government shed 13,000 workers in December and 25,000 workers during the year, down to 2.72 million. The Postal Service added 2,200 workers in December to handle the holiday rush, but still finished the year with 8,800 fewer workers than the year before, down to 594,000.
Neither figure reflects the Postmaster General's plan to shrink USPS by 100,000 through attrition and another 100,000 in firings.
Local governments kept laying off workers in December, but states and local governments actually added 54,000 workers last year, to 19.13 million combined. That yearly net gain was after a huge drop in the number of people employed local schools in December alone (-14,900).
Photo: In this 2007 photo, workers in California wait on line to register for the Disaster Unemployment Assistance program after they lost their jobs from a freeze. FEMA/Michael Raphael