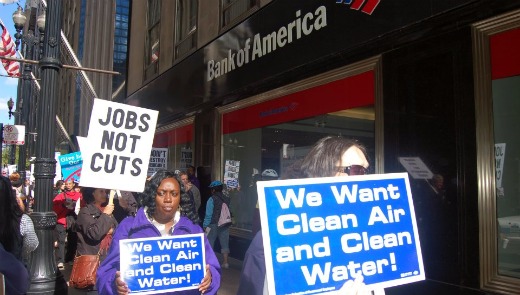 CHICAGO – Unions and community groups organized a rousing finish to a week of actions on jobs and corporate greed here Oct. 14. Hundreds marched and picketed Bank of America and then Chicago's Board of Trade and Federal Reserve Bank, the site of Occupy Chicago.
"Jobs, not cuts," chanted Bob Reiter, secretary-treasurer of the Chicago Federation of Labor to the starting rally at Federal Plaza. He then added, "We are one," the labor movement's unity chant.
"The labor movement stands in solidarity with the people occupying Wall Street, Boston and Chicago. One percent control the wealth and the political agenda of this country," he told the rally.
Reiter told PeoplesWorld.org that in order to pass a jobs bill it's less about the strategy in D.C., and "more about the people, the 99%, in the country."
"The labor movement never took its eye off the ball" in terms of the economy and jobs, he said. The occupy movements, he said, and the labor movement "joined together" on these issues.
"We stand with them," Reiter said.
This week, Chicago Mayor Rahm Emanuel announced a city budget that cuts vital programs, for example, shortening public library hours.
Pamela Phillips was already laid off by the city on Aug. 15. She worked as a traffic controller. Chicago is rated #2 for the worst traffic nationwide.
"We need jobs, not cuts," she told PeoplesWorld.org. "I am a taxpayer. I want corporate greed to stop, and to stop misusing TIF funds. Phillips was referring to the Tax Increment Financing, a special program for economic development that has been full of giveaways to corporations with no transparency.
"We need those funds to give back to Chicago for jobs, schools, libraries and parks," she said. Phillips is a member of Service Employees Union Local 73.
Take Back Chicago, a coalition of 150 labor and community organizations, MoveOn and Occupy Chicago sponsored Friday's rally. It capped a week of direct actions and marches, including squads of unemployed people shutting down the Bank of America branch in Chicago's downtown Loop, and a march of more than 7,000 on Columbus Day.
Chicago's actions were part of a nationwide America Wants to Work Week of Action for Jobs.
Photo: Protestors picket Bank of America in Chicago's downtown Loop, Oct. 14. (Pepe Lozano/PW)