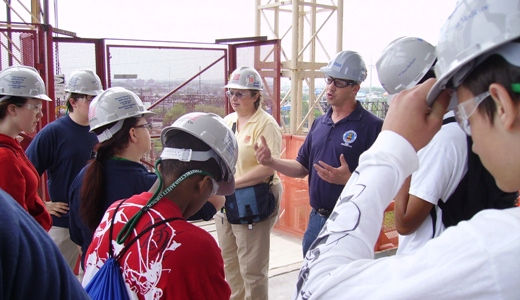 WASHINGTON (PAI)–The union presidents who sit on the AFL-CIO Building and Construction Trades Department board have spent the past two years trying to build relationships with leading national contractors "and key industry players," in order to create private-sector union jobs, Building Trades President Mark Ayers said.
And in at least one large construction area — nuclear power — they appear to be succeeding. BCTD signed an agreement on April 19 with yet another utility, this one in Texas, to have union labor build two more nuclear power plants.
That makes three signed agreements, covering five potential nuclear power plants, in the last two years, he said. The two Texas plants join two in Georgia announced the month before. Ayers noted four of the five plants are in the anti-union South. That's no coincidence, he added, construction union presidents want to expand organized labor's presence there and are uniting with community groups to do so.
Construction joblessness is above 20% and bank credit for private construction has been yanked in the recession.
The nuclear power construction alone will be worth $50 billion and 100 million hours of new work over the next decade, he said. That's important at a time when construction industry unemployment is more than 20%. Nuclear power is in President Obama's "alternative energy basket," in order to cut-down the country's dependence on carbon-based fossil fuels, a major contributor to global climate change.
Ayers urged delegates to push for "a balanced energy and climate bill that will generate tens of thousands of construction jobs now and in the future." The House passed a cap-and-trade climate control bill in December.
Boilermakers Legislative Director Abraham Breehey told a separate session that the three senators working on an energy bill compromise — John Kerry, D-Mass., Lindsay Graham R-S.C., and Joseph Lieberman, Ind.-Conn. — will unveil their legislation on April 26.
It will include Davis-Bacon prevailing wage protections, Breehey added.
"We have to incentivize our private sector" to lend money to upgrade the nation's power grid, build 12 nuclear power plants, increase offshore oil drilling and finance massive energy conservation through weatherization and other measures, Breehey said.
Other top points in Ayers' keynote address included: PLAs, health care and recruiting young people, especially minority youth, for apprenticeship programs and jobs.
Democratic President Barack Obama's executive order last year, restoring the option of project labor agreements (PLAs) in federal construction. Anti-worker GOP President George W. Bush had banned PLAs.
"We have seen three major government jobs in Hawaii, California and Oregon go union in the past few weeks. There will be many more. That's what we're fighting for and that's what the president is delivering … jobs," Ayers declared.
The health care fight "is not over" even after Congress approved and Obama signed the massive revision of the U.S. health insurance system. "It is far from perfect….We will continue to push for employer mandates in the construction industry that level the playing field for small union employers — life blood of our unions — and for a public option that will provide real competition for the insurance companies," Ayers said.
As he did in 2009, Ayers urged all building trades unions to go out into low-income and minority communities, and recruit youths for training and apprenticeship programs. He praised building trades councils in Chicago, New York, Los Angeles, Portland, Cleveland and the San Francisco Bay Area — and elsewhere — for doing so.
Replenishing construction unions' ranks from those communities is a demogra-phic necessity, Ayers told the overwhelmingly white, overwhelmingly male crowd.
"We are aging," he bluntly said. "Over the years, we've been stereotyped as male, pale and stale. And while that's much less true today" than before "we're still haunted" by that image, Ayers warned.
"If we want to keep this movement alive and vibrant, if we want to ensure future construction workers have the same opportunity for a decent life…then we need to look for new ways of doing business," he declared. He also called the recruiting of young and minority workers through community outreach the "smart" thing to do.
"As we build better, more-collaborative relationships with communities, we also build power. And when the interests of our unions and the communities in which we work converge, there is no power that can stop us, no adversary that can divide us," Ayers concluded.
Photo: In Philadelphia, the building trades are reaching out to high school youth for apprenticeship and job opportunities. Ben Sears/PW