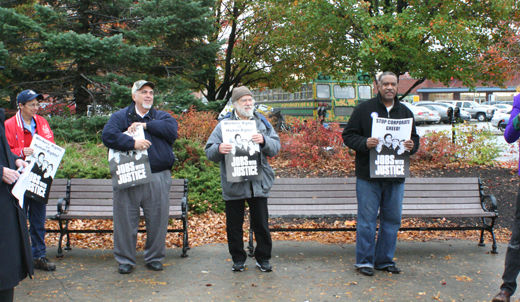 It takes a fight to win and Cleveland Jobs With Justice is celebrating its role in a massive repayment of stolen wages in a settlement that has labor lawyers shaking their heads in disbelief.
In the agreement signed by U.S. District Judge Solomon Oliver, Jr. Wednesday the 15 members of the board of InkStop Inc. will shell out $660,000 from their own pockets to 629 workers they locked out Oct. l. Usually when companies declare bankruptcy as InkStop did Nov. 5 workers are last in line and lucky to get anything.
In this case they received 82 per cent of the wages they were owed.
"It is highly unusual for individual defendants to pay part of a wage-and-hour settlement." said Cleveland labor lawyer Barry Freeman, according to the Plain Dealer.
But what has not been reported is that when the company headquartered here closed its 152 office supply stores throughout the eastern half of the United States, Cleveland Jobs With Justice swung into action. It held a demonstration Oct. 29, posting a video of the event on its website and launching a blog campaign to write letters to owners Dirk and Dawn Kettlewell and other members of the company's board.
The board included network football broadcaster Norman "Boomer" Esiason, former quarterback for the Cincinnati Bengals and head of a foundation raising money against cystic fibrosis. Several other members of the Boomer Esiason Foundation also sat on InkStop's board.
During the demonstration some 50 activists and Jobs with Justice Director Debbie Kline draped yellow crime scene tape on the front of the company's closed store in Lakewood. In addition, the Bread and Puppet Theater of Vermont, which happened to be in town performed.
Lakewood City Councilwoman Nickie Antonio joined attorneys for the locked out workers in denouncing the company for giving no notice of the closing, failing to pay wages for three weeks as well as the workers' health insurance thereby leaving them ineligible for COBRA benefits.
Coincidentally it was reported on the day of the protest that InkStop was being sued for fraudulently withholding information by an investor who had given the company $250,000 immediately prior to its collapse.
While employees were left high and dry, Jobs With Justice hammered the Kettlewells for continuing to enjoy a life of luxury in an $850,000 house in a gated community in suburban Aurora.
"Cleveland Jobs With Justice effectively advocated for the employees in this matter," said attorney Jason Bristol who worked on the settlement. "When a situation like this arises, it often requires a multifaceted approach. Litigation is not the sole means for resolving complicated disputes."
"Cleveland Jobs with Justice would like to thank and congratulate the workers and their attorneys, the Bread and Puppet Theater and everyone that joined in our efforts to bring justice to the former employees of InkStop," Kline said. "Justice has prevailed!"
Photo: Debbie Kline