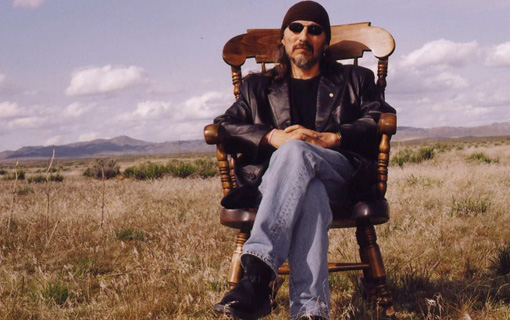 Another dauntless advocate of American Indian activism has walked on with the passing of Native rights stalwart John Trudell. He follows in the footsteps of Russell Means and Carter Camp. All three died of cancer.
Trudell passed away at his home in Santa Clara County, in Northern California, on Dec. 8, in the company of family and friends, at age 69. He was a Santee Dakota born in Omaha, Nebraska, on Feb. 15, 1946.
Trudell's stellar role in the movement for American Indian justice, beginning in the !960s, was inspirational. He was not only an activist, but also a poet, actor, orator, musician, spoken word artist and philosopher. His life was a brilliant, uncompromising mosaic of dedication to Indigenous rights, cultural preservation and language rejuvenation.
Trudell's activism began in 1969, when he joined other American Indians who had taken over Alcatraz Island in San Francisco Bay demanding that the former federal prison be returned to Native people under the Treaty of Fort Laramie of 1868. Trudell, who had studied radio and broadcasting in college at San Bernardino, became spokesperson for the group calling itself United Indians of All Tribes. He operated a radio broadcast from the island entitled Radio Free Alcatraz.
After Alcatraz, Trudell went on to serve as national chairman of the much celebrated American Indian Movement (AIM) from 1973 to 1979. He along with so many others from the '60s and '70s became the Native activists, writers, organizers, artists and actors spawned by that tumultuous and productive era.
In 1979, appalling tragedy struck Trudell while he was demonstrating in Washington, D.C., burning an American flag at the FBI offices as part of the Native protest. His pregnant wife, Tina Manning, their three children and his mother-in-law were killed in a fire at his in-laws' home on the Duck Valley Indian Reservation in Nevada. The fire occurred a few hours after the demonstration in Washington. Trudell and others strongly suspected government involvement, but the cause of the fire was never confirmed. It was never proven to be arson, but a private investigator Trudell hired concluded that the official version was practically impossible.
Following this near crushing catastrophe, Trudell began to write poetry and record his poems utilizing traditional American Indian music. He became a prolific poet, putting together spoken words with music on more than a dozen albums, including a most recent release earlier this year.
His acting involvement included pro-Indian movies such as "Smoke Signals," "Thunderheart," "Powwow Highway" and the documentary film "Incident at Oglala."
Trudell also became a prominent environmental activist. He was arrested along with others in the 1980s at protests against the Diablo Canyon Nuclear Plant in California. He was an outspoken advocate for forest protection efforts and for the curtailment of fossil fuel use and carbon pollution. He was also active in the defense of American Indian fishing rights.
May we honor his memory by carrying on the struggle in the spirit that he lived.
Photo: John Trudell/Facebook