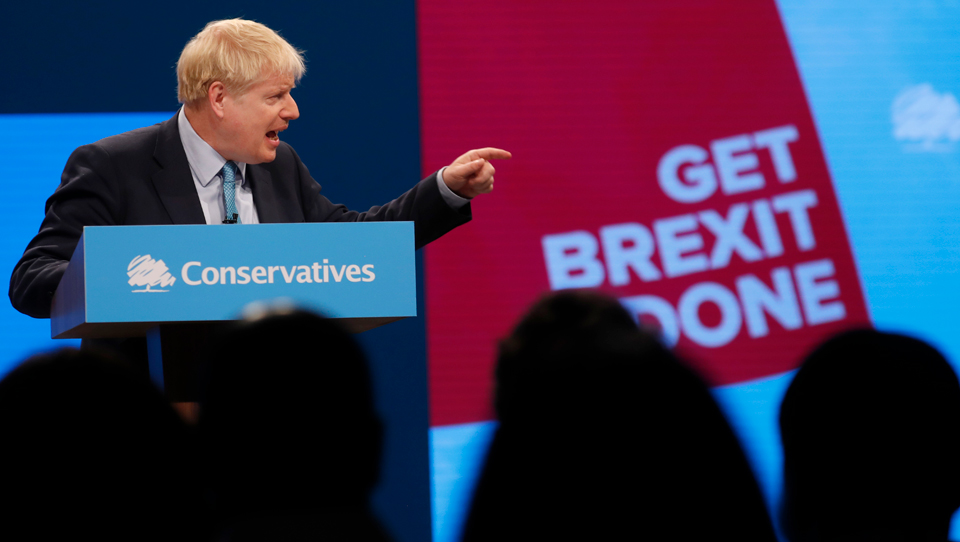 British Prime Minister Boris Johnson offered the European Union a proposed "best and final offer" Brexit deal Wednesday, saying it encapsulates a real compromise for both sides and urged EU leaders to hold "rapid negotiations towards a solution" after years of squabbling.
The U.K. is slated to withdraw from EU membership Oct. 31.
And with Brexit day fast approaching, Johnson, in a letter to European Commission President Jean-Claude Junker, said not reaching an agreement would be a "failure of statecraft for which we would all be responsible."
He conveniently left off any mention of the deal reached, and rejected three times, by his predecessor Theresa May.
Johnson announced his "new" Brexit deal on the last day of the Conservative Party's annual conference in Manchester, northwest England, and it was just enough glitter amongst the chicken feed to solicit cheers and applause from those in attendance.
In his speech, he implored Conservative Party members to support his deal and end the more than three years of negotiations over the terms of the U.K.'s exit from the EU.
"Let's get Brexit done," was his consistent refrain to delegates peppered throughout his 45-minute speech.
Johnson's proposal focuses exclusively on keeping an open border between the U.K.'s Northern Ireland and the Republic of Ireland, an EU member—the "Irish backstop" being a crucial point to a Brexit agreement.
The proposed offer is to do that by keeping Northern Ireland closely aligned to EU customs and trade rules for goods, for an extended period.
The Brexit agreement between the EU and Theresa May was rejected by Parliament largely due to opposition to the "backstop" policy ensuring no return to a customs post or hard Irish border; violating the terms of the Good Friday Agreement. An open border between Northern Ireland and the Republic of Ireland is paramount to maintaining peace and supports both local economies.
Johnson, along with Conservative lawmakers, opposed the backstop measure over fears it would keep the U.K. tied to EU trade rules indefinitely, possibly limiting their ability to seek new trade deals globally.
The proposal involves creating "an all-island regulatory zone on the island of Ireland, covering all goods including agri-food." It would keep Northern Ireland in a regulatory zone with the EU for food, agriculture, and industrial products, removing the needs for checks.
The plan does not put a time limit on the economic transition period, and it would have to be approved and renewed every four years by the Northern Ireland Assembly. The Assembly, however, has been suspended for over two years following a dispute between the main Unionist and Nationalist power-sharing parties.
There would still need to be customs checks, but Johnson said they could be done away from the border at "other points on the supply chain."
"What the whole world wants is to be calmly and sensibly done with the subject and to move on, and that is why we are coming out of the EU on Oct. 31," said Johnson.
Johnson also indicated Wednesday he will again ask the Queen to prorogue (suspend) Parliament next week, but only for a few days ahead of the Oct. 14 planned Queen's speech laying out the administrations' new legislative agenda.
Reactions to the new Brexit deal
Opposition Labour Party Leader Jeremy Corbyn responded to the prime minister's Thursday morning Brexit statement saying it was a "rehashed version of previously rejected proposals" putting the Good Friday Agreement at risk.
"[Johnson's] letter makes his intentions clear," Corbyn continued. "It rejects any form of customs union—something demanded by every business and industry body in the U.K. and every trade union. They want to ditch EU standards on workers' rights, environmental regulations, and consumer standards and engage in a race to the bottom.
"Deal or no deal, this Government's agenda is clear: they want a Trump Deal Brexit."
There was a subdued, cool reaction to the proposal in Brussels, Belgium, home of the EU Parliament. And while leaders and negotiators were cautious in not dismissing Johnson's plans, they were clear his current offer wouldn't win support from the entire bloc.
"Safeguarding peace and stability on the island of Ireland, protection of citizens and EU's legal order has to be the main focus of any deal," the members of a European Parliament Brexit commission in a statement. "The U.K. proposals do not match even remotely what was agreed as a sufficient compromise in the backstop."
Chief EU Brexit negotiator Michel Barnier said there is progress but "lots of work still needs to be done to reach a deal."
Irish Foreign Minister Simon Coveney gave the deal a stinging rebuke, saying, "My judgment is that Boris Johnson does want a deal and that the paper that was published yesterday was an effort to move us in the direction of a deal. But… if that is the final proposal, there will be no deal."
After a rocky 70 days as prime minister, filled with Parliamentary and legal defeat, Johnson continues to insist Britain will leave the EU on Halloween with or without a deal—leaving many to wonder if he will break the law again, in defiance of Parliament's Benn Act requiring an extension to Brexit if no deal is reached.