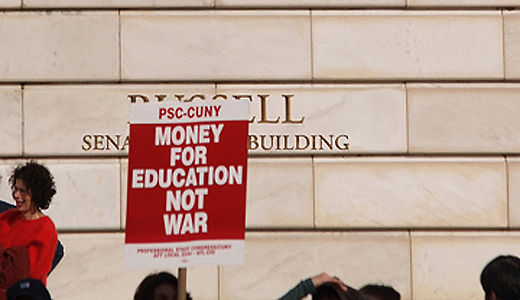 NEW YORK – Union leaders say the injunction issued today, May 28, by U.S. District Judge Lawrence Kahn is a victory for both the Professional Staff Congress and the City University of New York students.
Judge Kahn issued a preliminary injunction against New York Governor Paterson's plan to furlough state workers, including CUNY faculty and staff. The PSC/CUNY, one of several unions opposing the plan in court, argued that the furloughs would violate the New York State and U.S. Constitutions.
CUNY is the city's public university system. It is the largest urban university in the US, with over 260,000 degree-credit students and 273,000 continuing and professional education students enrolled at campuses located in all five New York City boroughs.
"We are gratified that justice has been done. Today's ruling is a victory for CUNY faculty and staff – and above all, for CUNY students," said Dr. Barbara Bowen, president of the PSC/ CUNY and the lead plaintiff on the PSC's lawsuit. "Now the thousands of students, who attend CUNY in the summer, need not face the prospect of classes cancelled, credits denied, dreams put on hold. Judge Kahn's ruling against the illegal scheme for mandatory paycuts is also a victory for all public workers. The decision defeats the State's attempt to scapegoat us for an economic crisis we did nothing to create.
"New York's furlough scheme had nothing to do with closing the budget deficit: it would have produced about $240 million, while the deficit is $9 billion. The only real way to solve the budget crisis is to enact progressive tax reform, something the governor and the legislature have so far refused to do. I hope this decision sends them back to the bargaining table and convinces them of the need for closing tax loopholes and restoring a fair tax system," said Bowen.
Last year, Wall Street profits hit a record high of $61 billion. The PSC is supporting a bonus recapture tax, reducing the rebate on the stock transfer tax to 80%, and other progressive revenue measures to close New York State's budget gap.
The PSC argued that Paterson's furlough plan would have caused irreparable harm to tens of thousands of New Yorkers, and that the governor had not demonstrated that violating union contracts was either necessary or reasonable. Judge Kahn agreed with the PSC's position on every point, and found that the state's argument was "transparently unsupported" by the facts or the law. The preliminary injunction prohibits the State from imposing furloughs while the union lawsuit against the governor's plan moves forward. It is "substantially unlikely," Judge Kahn concluded, that the state will prevail when the underlying lawsuit is heard.
Photo: takomabibelot/CC