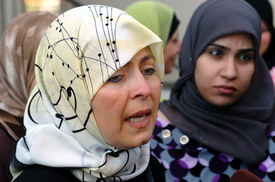 TAMPA, Fla. — A federal judge sentenced Palestinian rights supporter Dr. Sami Al-Arian to 18 months of additional imprisonment prior to his deportation, ignoring both a jury verdict and recommendations from federal prosecutors.
In announcing his decision on May 1, U.S. District Court Judge James S. Moody made no effort to disguise his bias against Al-Arian. Moody repeated allegations against Al-Arian that were unproven at trial and he appeared to give credence to statements made by a discredited FBI informant.
The prosecution of Al-Arian, a Kuwaiti-born Palestinian who was a computer engineer at the University of South Florida, was regarded as something of a landmark case. Former Attorney General John Ashcroft regarded Al-Arian's indictment as a vindication of the USA Patriot Act, and federal prosecutors were given access to 20,000 hours of secretly recorded telephone conversations and hundreds of fax intercepts.
Despite the all-out effort by the federal government to convict Al-Arian, a jury deadlocked on nine charges that he provided aid to terrorists, found him not guilty on eight other charges, and acquitted three co-defendants on all charges brought against them.
Last month, Al-Arian entered into an agreement with federal prosecutors, pleading guilty to one count of conspiring to provide support to a Palestinian organization the U.S. government has characterized as having ties to terrorists. As part of that agreement, Al-Arian agreed to be deported from the United States, and prosecutors agreed to seek a minimum sentence that would have had the effect of ending his imprisonment. Al-Arian has been incarcerated since his arrest on Feb. 20, 2003.
Al-Arian's attorney, Linda Moreno, indicated her client was "at peace" about the plea agreement, having been keenly aware of the effect of his trial and imprisonment — what Moreno described as a "nightmare" — has had on Al-Arian's wife and five children.
Moreno hoped the sentencing would result in Al-Arian's immediate release from prison and a brief reunification with his family. She had asked Judge Moody to enter into the record scores of letters written in support or Al-Arian, including one from an Israeli who wrote of the academic's commitment to peace for "both his country and mine."
Moody's decision to extend Al-Arian's imprisonment for another 18 months, the maximum allowed by law, prior to his deportation shocked and outraged many.
"What you saw today was the purest of contradictions," said one person after the sentencing, his voice choked with emotion. "You had Sami's statement, which spoke to the heart, followed by Moody's decision which was equally eloquent in exposing the most repugnant aspects of what passes for American justice."