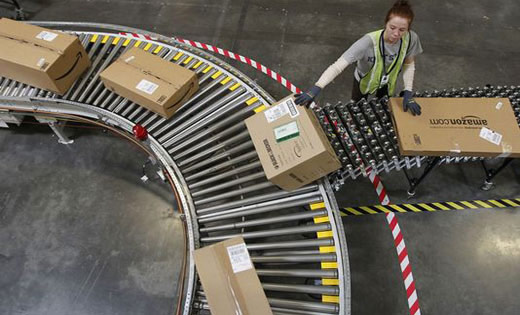 The U.S. Supreme Court turned its back on working people this week and ruled 9-0 in favor of online giant, Amazon. Warehouse workers for Amazon.com had sought pay for time they must spend at the end of every shift, waiting in line to be searched by security. In his December 9 decision, Associate Justice Clarence Thomas explained such waiting time isn't an intrinsic part of the worker's job or its duties, so the employer is not required to pay them.
For Amazon.com workers the ruling means spending 25 minutes in line every day, unpaid, while waiting for a mandatory security check. Jesse Busk and Laurie Castro, who worked in Nevada warehouses for Amazon.com, sued the online retailer on behalf of a class of hundreds of others in 2010. They said Amazon's subcontractor, Integrity Staffing Services, made each worker stand in line at the end of each shift, to go through airport-like security screening.
It has been pointed out that these wait times could be eliminated by simply hiring more security staff, or by staggering employees' quitting times. Considering that the average pay working in one of Amazon's warehouses is $14 and the warehouse in Reno employs about 1,000 workers year round, Amazon.com steals almost $6000 in pay from workers in one warehouse every single day.
Justice Thomas, however, thinks that "the screenings were not the 'principal activity or activities which [the] employee is employed to perform.' Integrity Staffing did not employ its workers to undergo security screenings, but to retrieve products from warehouse shelves and package those products for shipment to Amazon customers," Thomas writes.
The idea that something must be "integral and indispensable" to the employees' duties was integral to the Supreme Court's decision. At one point Thomas referenced multiple dictionaries to find the definition he liked best for both words: "An activity is not integral and indispensable to an employee's principal activities unless it is an intrinsic element of those activities and one with which the employee cannot dispense if he is to perform those activities."
The Justice concluded, "Integrity could do away with security screenings altogether without impairing employees' ability to complete their work." Oblivious to the reality that for the workers whatever the boss makes mandatory is "integral and indispensable" if they want to keep their jobs, Thomas's statement demonstrates his complete ignorance of wage labor. Sadly, the other justices were either unwilling or unable to see things from the worker's perspective.
Lower courts split on whether the workers deserved pay for the screening under the Fair Labor Standards Act and the Portal-to-Portal Act. The Obama administration sided with its own Labor Department's interpretation of the laws – an interpretation handed down in 1951 – and against the workers.
Photo: An Amazon employee moves packages at a fulfillment center in Goodyear, Ariz. Ross D. Franklin/AP